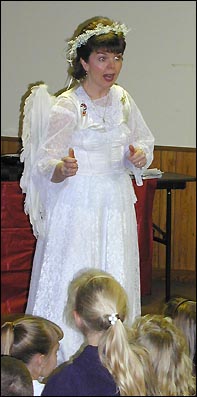 Janet Binsfeld found a new calling this summer. For nearly a year, the rural Hawick resident had been trying to get a friend to expand her storytelling to include Bible stories, but Janet realized in June that she was meant to be a storyteller herself.

Janet's realization came when Phyllis Gardner asked her to be a storyteller for Vacation Bible School at the St. Louis Catholic Church. Binsfeld had led singing at VBS for almost 10 years, but the prospect of telling stories took her by surprise. "It hit me that the Lord was leading me to be a storyteller," she said.

Janet's storytelling friend had given her an angel costume months earlier, which Janet hadn't even tried on because she thought it would be too big. When she started at VBS, though, Janet retrieved the costume from a closet and found that it fit. "I picked the name Althea because angels are messengers of good news," Janet said.

Janet was asked to do six stories at VBS and had already purchased three of them, which she was trying to use to convince her friend to do Biblical storytelling but ending up using herself.

Since starting as a storyteller, Janet has told stories at book clubs, family gatherings, business places, nursing homes, and churches. She has entertained more than 2,000 people, she estimates.

In December alone, she has had about a dozen engagements. Last week, her latest engagement was at her home church, St. Louis Catholic Church, again, where she told stories for the Catechism students during their Christmas party. Janet's 19 years of experience as a kindergarten teacher paid off, as she got the attention of the excited children and held it throughout her story.

Janet knows nine different stories: inspirational stories, folk tales, Biblical stories, and a true story of her life that includes her family. (Her two-year-old son enjoys having his mother tell that family story that includes him, often asking if she told that story after engagements, but at least one of her kids doesn't share that enthusiasm.)

Janet has written songs to go with each story, which she sings while accompanying herself with a guitar or autoharp. "As a little girl, I always wanted to sing. Now, when I look back over the events of the past year, I feel God was preparing me for storytelling," she said.

She also uses puppets on occasion to illustrate a story.

Telling stories fills a void in Janet's life. She left teaching two years ago to spend more time with her husband, Dan, and their four children. "Part of me kind of died when I left teaching," she explained.

She was looking to interact with people, but not on the full-time basis required by a teaching job. "I can envision storytelling taking up my spare time," she said.

"I get to share my love of God and people share their stories with me," she said of her new vocation. She likes meeting people through storytelling and teaching moral values and lessons of love and respect for others.

The moral of the story, said Janet, looking back at her reluctance to try the storytelling that she now loves, is: don't expect someone else to do a job meant for you.
---
Contact the author at paypress@lkdllink.net • Return to News Menu
Home | Marketplace | Community
---