Wuertz family optimistic after daugher's car accident
This article submitted by Linda Stelling on 12/22/98.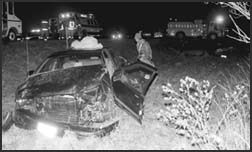 Jaime Wuertz has been in a coma for six days. Her parents, Gene and Lori Wuertz, Lake Henry, remain optimistic their 16-year-old daughter will be fine.

"It's a waiting game at this point," Lori Wuertz said. "Jaime is holding her own. She is doing as good as can be expected."

Jaime was injured in a two-car accident on Wednesday, Dec. 16. The accident happened about 4:37 p.m. at the intersection of Highway 4 and County Road 220, about two miles south of Lake Henry.

Jaime, driving a 1984 Chevy, was enroute to basketball practice, when she collided with a car driven by Juanita Moser, 68, Paynesville. Moser, driving a 1995 Ford, was southbound on Highway 4 at the time of the accident.

Responding to the accident were the Lake Henry Fire Department and First Responders, Paynesville Fire Depart-ment and Paynesville Ambulance.

Lori Wuertz said Jaime was traveling west to east and was unable to stop at the intersection and slid onto Highway 4. Both parties reached the intersection at the same time and neither party was able to stop.

Mrs. Moser suffered a broken collar bone as a result of the accident. Mrs. Moser was wearing her seat belt. Jaime was not wearing her seatbelt.

Mrs. Wuertz said Jaime received a few cuts and scrapes from the accident but her main injuries were to her head. She suffered no broken bones from the accident. "From the neck down, Jaime looks normal," Mrs. Wuertz added. Jaime was taken to the Paynesville Area Hospital, then transferred to the St. Cloud Hospital where she remains in the intensive care unit.

"Doctors have placed Jaime on a respirator as a precaution," Mrs. Wuertz said. "The respirator will help control her breathing so she doesn't get too much oxygen."

"Every day I see little signs of improvement which mean a lot to us," Mrs. Wuertz said. "When I talk to her, she responds in little ways. When I ask her to move her feet or to squeeze my hand, she responds."

The doctors at the St. Cloud Hospital have told the family there might be brain damage when Jaime wakes up. "They are unsure as to the extent of the damage until Jaime becomes concious," Mrs. Wuertz added.

Over the weekend, the Wuertz family received permission to decorate Jaime's hospital room for Christmas. They have brought in a small Christmas tree and decorations.

Her hospital room walls are covered with get well cards from friends and family. The Paynesville Area High School sophomore class signed a large card and that also adorns the wall. Jaime has also received enough flowers and stuffed animals to fill the room. "We feel overwhelmed with the response and support from the community," Mrs. Wuertz said. "We are posting everything we can on her walls for her to see when she wakes up."

Jaime has been playing basketball since sixth grade and is a member of the varsity team this year. The family has been posting the team's basketball scores on the hospital room wall for Jaime.

The girl's team wore armbands sporting Jaime's name and number during their holiday tournament games. The girls and boys teams are dedicating the rest of their season to Jaime.

"It's amazing how many people have been touched by Jaime. She was a bubbly, outgoing, self-confident teenager," Mrs. Wuertz said.

In addition to her classmates and basketball teammates visiting the family at the hospital, members of the Melrose girls basketball team have also stopped by for a visit.

Mrs. Wuertz has stayed at the hospital almost around the clock since the accident. Gene returns home to do the farm chores then returns to the hospital. Jaime's brother, Brady, 11, returned to school this week so he could take part in the Christmas festivities in his classroom.

"We tell Jaime each day what is happening in our lives and who is praying for her," Mrs. Wuertz said. "I feel she understands what I'm telling her."

"Right now Jaime needs all the support she can get from her friends and family. It is going to take her a long time to recover once she comes out of the coma. She is going to need her friends more than ever after she wakes up because chances are she won't be the same," Mrs. Wuertz added.

"We want to thank everyone for their calls and prayers of support. Keep them coming," Mrs. Wuertz said.