Oh, what a difference a week makes!
This article submitted by Lynne Jacobson on 12/22/98.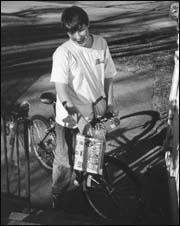 On Saturday, Dec. 12, Jacob Nyffler, left, was able to deliver the Press Plus on his bike and in a t-shirt.


On Monday, Dec. 21, Rachel Schmidt and Morgan Kern, right, had to wear their heavy winter clothes to play on the elementary playground.
---