Seniors share Christmas memories with students
This article submitted by Linda Stelling and Michael Jacobson on 12/22/99.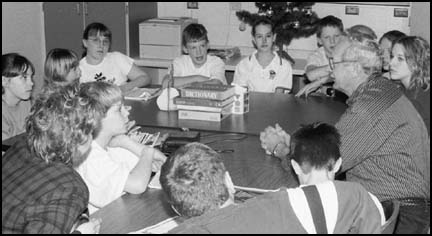 In an annual ritual, students at the Paynesville Area Middle School had the opportunity to hear about school days and holidays past. Nearly two dozen area senior citizens joined the students for lunch on Thursday and then spoke to the primetime classes at the middle school. This is the fourth year of the sharing.

Kathy Olmscheid, a teacher in the middle school, called the visit a nice mixture of ages, allowing the students to connect with seniors.

The routine for each speaker differed in the various primetime groups. In some rooms, time ran out for prepared remarks due to the questions of the students.

Nick Fischbach, at far right, tells students in Diane Miller-Gertken's primetime about attending parochial school in Lake Henry. Fischbach spoke only German when he was sent to school. He walked a mile each day to get there.

Technology changes
The exchange between seniors and students continues to open the eyes of a younger generation to the experiences of the past. "They can't imagine life without TV," said Olmscheid, of her primetime students.

Ed Schwandt, 99, a guest in Olmscheid's classroom, told the students his family didn't get electricity until the 1920s. The kids had a hard time imagining life without electricity and all the conveniences that go along with it. "I still don't watch TV a lot," he told them, "instead read the Bible."

Joan McMillan feels she enjoyed life more than the kids do now. "We spent more time outside and made our own fun in the snow. I think they are missing out on a lot. Sure they have wonderful conveniences, but they are missing out on other things," she said.

Marie Lauer, the youngest of 11 children, told the students they didn't have television and video games to entertain them but made homemade ice cream, popcorn balls, and played cards.

School days
One obvious comparison was between school days past and the present school routine. Nick Fischbach told Diane Miller-Gertken's primetime group about attending Catholic school while only knowing German. "I tell you," he said, "you guys have it easy. I couldn't even speak English."

"It was really hard for me to go to school," he added.

Fischbach described the two-room schoolhouse as a more family-type setting, in spite of the discipline. Better students had to help others with assignments. Students had to take turns bringing coal and water so the school could operate.

When asked how he got to school, Fischbach responded, "We only lived a mile from school, so we walked."

Joan McMillan told the students about a school bus they had in Climax where she taught in 1935. In the winter months, skis were put on the bus instead of wheels. The bus had a homemade top and no heat. "We felt trapped in the bus because the windows were so little," she added. "The students liked the idea of skis on the school bus."

Subjects that Willie and Gloria Scheel touched on while talking to Alycia Long's primetime included their schooling, rationing during World War II, and the Armistice Day blizzard of 1941.

Holiday memories
With Christmas just around the corner, several seniors shared holiday memories with the kids. "It wasn't anything like it is now," said Edith Thomsen. "We didn't spend the money we do now."

"One gift and we thought we had the world by the tail," added Thomsen.

Schwandt said one of his memories included getting a quarter to spend for presents.

"Each Christmas we would chop our own Christmas tree and get together with relatives. We didn't have cars to get around but drove horse and buggy, Schwandt said."

Bob Jung agreed that there were fewer presents in the past. He remembered a special Christmas when he was in fifth or sixth grade and all he wanted was a BB gun, "more than anything in the world."

Jung, whose father was a gunsmith, was relieved when he got his BB gun. "You didn't get many presents," he said. "You sort of went for one big thing."

In her German upbringing, Marge Bartz said the tradition was not to see the Christmas tree until Christmas Eve. Her parents kept it hidden in the living room by hanging a sheet across the doorway. "After we got home from church," she said, "we disrobed the tree and took turns opening presents."

Others recalled cutting off just the top of a large tree to get a Christmas tree in the perfect shape and size.

Marcie Lieser told the students in Kim Gulbranson's class that Santa brought the Christmas cookies and a tree to their house. "The tree was always hidden until Christmas Eve. Mom and Dad would set it up and decorate the tree after we went to bed. It was a complete surprise to us Christmas morning to see the decorated tree."

Lieser also said their Christmas presents were not wrapped. "Our presents where usually placed at the dinner table were we sat to eat. They usually consisted of one toy, an item of clothing, school supplies, candy, and nuts," Lieser said.

"I really enjoy being with the students. The kids were real inquisitive and alert, wanting to hear about everything," Lieser said.

Jim McCalmant told Virg Vagle's primetime about a special Christmas he spent in the Philippians in 1974 while serving on a helicopter aircraft carrier. Along with 40 crewmen, he hiked into the mountains and spent a week with a tribe, distributing gifts and books, building schools, and repairing equipment. "They were so appreciative," he said of the people. "Especially for those men who went along to work, they had never seen such a primitive celebration of Christmas."

Idella Arbogast, 87, a guest in Connie Wimmer's classroom, recalled they didn't have cookie cutters in the shapes of Santa or trees. Her mother made animals, birds, and fish. She brought along some of the cookie cutters that belonged to her mother to show the class.

Arbogast said her only gift from her parents was a new dress to wear to the Christmas programs. Arbogast recalled fondly, "When we were younger, grandfather always gave us 50 cents. When we were teenagers, we received a dollar every year. Dad put the money in the bank and started a savings account for each of us since money was scarce."

Lauer told the students it was a miracle they were still around and didn't burn down the house. "We had real candles on the Christmas tree. My parents would sit in the other room while we lit the tree. When I think about it now I can't believe we didn't burn down the house. However, we did have a fire once, but my older brother put it out by stomping on the tree," she said.

"I always received material from my godfather for Christmas. My aunt would then make a dress from the material," Eileen Schleper recalled. Schleper showed the students in Scott George's classroom the dress and a picture of her wearing the dress when she was about 10 years ago. She estimated the dress is about 50 years old today.

Schleper said Christmas Day usually started before 5 a.m. when she was a child on the farm. "We had to be up and dressed to attend mass at 5 a.m. It made for a long day. After mass we did our chores, then we had breakfast. After breakfast we opened our gifts," she recalled.

"We didn't have any grandparents to visit so we spent the day at home. As children, we usually received clothing for gifts and one toy, usually a game," Schleper added.

Chuck Whitcomb had brought along a light fixture which clipped onto the branches of a Christmas tree and held candles. Whitcomb told the students that they couldn't leave home until all the lights were out on the tree.

A fun visit
McMillan enjoyed her visit to the middle school. "The kids were very nice and well behaved. We talked a little about everything," she said. "Our time was too short. I wish I could have spent more time with the students."

Alycia Long, a middle school teacher, said, "(The students) really enjoyed it. You could see they were really interested."

Middle school instructor Randy Ziemer said the students in his primetime always invite someone they know. "It makes it more meaningful when there is a connection with the students," Ziemer added.

Visiting his class this year were Chuck Whitcomb, Tanya Whitcomb's grandfather; and Terri Rafferty, Alyssa Kohnen's grandmother.

"It is great that the students can learn about the past firsthand," Ziemer said.
---