Five years ago, Helen Lehman started having a hard time climbing her tree stand to hunt deer. But that didn't keep Helen, now 80, from continuing to hunt. She was still too young to consider quitting, she said; she just needed to make a few adjustments, like sitting in a lawn chair on the ground.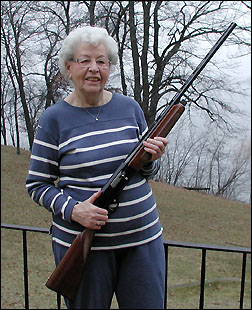 Her chair is so comfortable, she said, that she almost didn't stand up to shoot her deer this year. She did, though, bagging a small buck. She got her deer in the woods near the Koronis Hills Golf Club. "It was a little guy, the smallest I ever got," said Helen with a chuckle. "But the meat was wonderful."
At 80, Helen Lehman still loves to hunt deer. This year, she shot a small buck with her 20-gauge shotgun.
Using a 20-gauge Beretta that her husband Don, a retired insurance agent, gave her as a Christmas gift several years ago, she shot the third deer she saw that day, she reported. Don, to whom she has been married for 57 years and with whom she has hunted for over 30 years, did not get a deer this year, she added.
Some years Helen isn't so lucky. Sometimes, she doesn't even see a deer, but that's alright, too. To Helen, it's not about the kill; she enjoys hunting whether she brings home a deer or not.
She loves spending time in the woods - especially on beautiful fall days - and this year the warm weather was perfect for deer hunting, she said. She also enjoys the scouting trips she takes before the season starts, to place her chair; she enjoys sitting in the woods, admiring nature; and she enjoys having a passion she can share with Don, who introduced her to the sport.
When she married Don, she already knew she was interested in outdoor sports. As a little girl, Helen always wanted to hunt. She used to see a neighbor girl go out every fall, but Helen's father died when she was very young, so there was no one to take her. "So I found a man I could go with," she said laughing.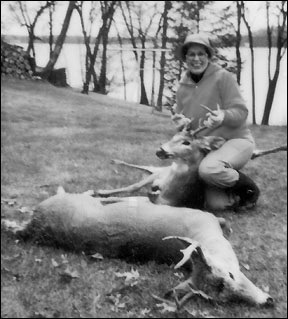 Helen began by shooting targets with Don. "The first time I shot a shotgun, it almost knocked me over," she said. Luckily, she found a gun that suited her, and she developed a lifelong hobby.
Helen shown here with a few deer.
In over 30 years of hunting, Helen has bagged numerous deer as well as an elk and a moose. She tried duck and goose hunting but didn't like it (too cold), and hunting other game birds and small game was too much like work for the small amount of meat, she said. But she still loves deer hunting.
Originally, the Lehmans hunted frequently with other couples. In fact, they were with Roger and Darlene Glenz, another local couple, when Helen killed a moose in northern Minnesota. "I was the lucky one then," she said. She was the first to get off a shot when the group saw the moose, and she was the one who killed it.
It took all of them hours to get the half-ton moose out of the woods, she said. The Lehmans butchered the moose themselves - as they do with all of their game - and had a wonderful time sharing the meat with visitors, said Helen.
Lately, the Lehmans' hunting expeditions are closer to home, and usually they're alone, but they like the time together. "Better she goes with me than I have to go with someone else," said Don.
The Lehmans have lived on Lake Koronis since 1963. They love the nature views from their home, they love spending time outdoors, and they love walking in the woods together, even when they aren't hunting. In the summer, they play golf and garden together.
Helen believes that hunting, as well as her other activities, have a positive impact on her health. "It keeps me young," she said. With two grandchildren and five great-grandchildren, Helen hopes to be active for a long, long time.
---
Contact the author at editor@paynesvillepress.com • Return to News Menu
Home | Marketplace | Community
---