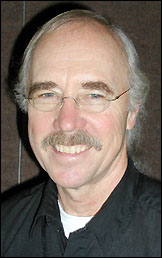 In the 21 years as the maintenance supervisor for the Paynesville Area Health Care System (PAHCS), Gene Martinson has witnessed a lot of changes. When he retires this week - his last day on the job is Wednesday, Dec. 22 - he will leave a facility that has undergone almost constant construction and growth since he joined the staff.

Gene Martinson retires this week after a 21-year career as the maintenance supervisor for the Paynesville Area Health Care System.

When Martinson joined PAHCS, the hospital was in the middle of an expansion project, he said, and the construction throughout the system never seemed to end. In fact, the Paynesville Community Hospital and the Koronis Manor encompassed about 59,000 square feet in 1983. Today, the main campus of the PAHCS - including the Paynesville Area Hospital and the Koronis Manor, plus 700 Stearns Place and the Paynesville Area Medical Clinic - totals nearly 112,000 square feet. And that doesn't include the five satellite clinics, Washburne Court, and Hilltop Care Center, which Martinson also supervises for maintenance needs.

During his time on the job, PAHCS built an addition to the hospital in 1983, 700 Stearns Place in 1988, and the Paynesville Area Medical Clinic in 1994; did a major remodeling and expansion project in 2000; and purchased five satellite clinics and two additional nursing homes. During the building projects, Martinson acted as a liaison between contractors and the administration. In addition, he made sure the hospital and all of the clinics and facilities ran smoothly on a day-to-day basis, overseeing everything from light bulb installations to heating system maintenance.

Though he began as a maintenance supervisor at the hospital - performing mostly electrical duties due to his background as a master electrician - eventually the scope of his job grew to include supervising maintenance, laundry, and housekeeping for PAHCS, with the exception of the laundry and housekeeping at the Hilltop Care Center in Watkins, which is done on site.

In addition, he served as the chairman of the safety committee and of the risk management committee, and he also acted as the PAHCS safety training officer. "I wore a lot of hats," he said.

And even though the scope of the job changed, the size of his staff didn't grow much, he added. At his retirement, Martinson supervised a crew of three maintenance workers and more than a dozen laundry workers and housekeepers. The department grew with the system, he said, becoming more efficient and handling more responsibilities.

Even with a lot of supervisory duties, Martinson never liked sitting behind a desk, he said. He liked to think of himself as a working supervisor. "I had to be out there working, too," he said. He could frequently be found performing a variety of maintenance duties.

"It's been an incredible journey," said Martinson of his time with PAHCS.

Martinson's journey started in 1983 when he was lured away from an electrical contracting business he owned with his brother-in-law. A Paynesville native, Martinson had made several career changes before that, including time in the Army, work as a structural draftsman and as a carpenter, and becoming a master electrician, working his way from apprentice electrician to master electrician.

His last career change was the best, he said. It's been exciting to be part of an ever-changing health care system and being a part of its growth, he added.

"It's been a great career," he said. "I know there were some bad times, but I don't remember them," he added with a laugh.

During a retirement party his co-workers threw for him earlier this week, Martinson was reminded how many caring people he worked with, he said. He will miss them.

In retirement, Martinson plans to enjoy his free time, to refurbish old farm equipment, to work occasionally as a consultant for PAHCS, and to have more time to spend with his wife Kathee and his family. With three children and five grandchildren, he is sure he will keep busy. Kathee is not quite ready to retire yet, he said, but when she does, he plans for them to take long trips together on their motorcycles.
---
Contact the author at editor@paynesvillepress.com • Return to News Menu
Home | Marketplace | Community
---