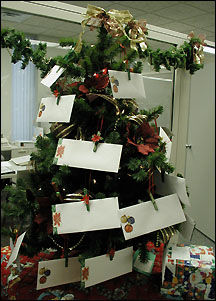 Imagine having to choose between paying the electric bill and buying Christmas presents.

Imagine your Christmas wish list being solely to watch your kids open a present or two.

Imagine spending the holidays thousands of miles away from loved ones, on duty in the military.

Hundreds of needy children will receive Christmas gifts this year thanks to the generosity of others. "Giving trees" like this were locted at several local businesses and area churches to inform donors about individual Christmas needs.

"I think the part (of Christmas) I enjoy the most is watching my kids open their presents and seeing the sparkle in their eyes," said one local mother of five, whose husband died three years ago. All she wants for Christmas, she said, is a clean house and good kids. But having a bare Christmas would be devastating to her kids, she added.

Thankfully, for people in need in the community, several local organizations have worked hard again this year to spread the holiday spirit. The Paynesville Area Community Service Center - aided by several local churches - is planning to provide gifts to 100 area children; the Secret St. Nick Fund - run by school volunteers - has raised a record amount to buy gifts for 68 kids in two dozen families; and soldiers in Afghanistan will receive care packages thanks to Paynesville donors.

Giving is the true spirit of Christmas, said Ginni Chevalier, an instructional aide at school who volunteers for the Secret St. Nick Fund. "I think we do forget about it, " she said. "It's nice to get back to that warm feeling inside."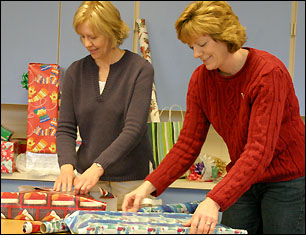 The Secret St. Nick renews her faith in human kindness, said the recipient mother. "Christmas isn't just about getting gifts all the time," she agreed. "The true spirit of Christmas is giving."
School employees Mary Kottke and Sue Teicher volunteered to wrap Christmas presents for the Secret St. Nick during their work break. The Secret St. Nick Fund - like the Paynesville Area Community Service Center - provides Christmas gifts for needy area children.
Community Service Center
This year, the Paynesville Area Community Service Center plans to provide gifts to nearly 100 area children, more than twice the number than last year, according to director Pam Williquette. In addition, the service center plans to provide special holiday foods - including a ham or a turkey - to needy families in the area.
By changing how the center gathers and distributes gifts, Williquette hopes to help more families this year. In previous years, the center held a holiday party where gifts were given to area children. Williquette hopes the new program will reach more families by protecting the anonymity of the recipients. This should make them more likely to participate, she thinks, because pride is the biggest reason families in need don't ask for help.
This year, the center put "giving trees" at the Bank of the West and at the Central Minnesota Federal Credit Union. Each tree was decorated with cards containing an item on an anonymous child's wish list with the child's age, sizes, and interests also listed.
Nearly all of the cards were taken and more than half of the gifts had already been delivered to the center last week. Williquette thinks the new program will provide gifts that are more personal, since the participant actually made a wish list.
And Williquette was thrilled with the community's response. Because this is her first year at the center, she didn't know what to expect, and she feared she may be asking too much, but the community's response was phenomenal, she said.
And the giving isn't over yet. Donations are still pouring in from area churches, business, and individuals.
"It's unbelievable," said a mother of the help she and her family have gotten from the Paynesville Area Community Service Center. With the center's help, her kids can have a Christmas like their friends, and she doesn't have to add the stress of stretching limited resources during the holiday season.
Just a few years ago, her family was doing quite well financially, she said, until her husband lost his good-paying job due to a serious health problem that forced him to quit working. Since then, financial hardship has hit the family.
She really appreciates the help her family receives from the center, from school supplies to winter coats to a Thanksgiving meal. She is so appreciative for everything the center has done for them that it has helped her to teach her sons to say "thank you," she reported.
Nearly all of the area churches do some kind of gift or food drive for the Paynesville Area Community Service Center, Williquette reported. And this Christmas their generosity was shown again.
Nordland Lutheran Church and Zion Lutheran Church, for example, set up mitten trees, with congregation members encouraged to attach warm mittens, scarves, and hats to donate to the center.
At St. Louis Catholic Church, the congregation was encouraged to visit a bank and help a child represented on one of the trees. At Crystal Hills Assembly and the Paynesville Evangelical Free Church, boxes were set out for donations to the center.
Paynesville Lutheran Church and Grace United Methodist, on the other hand, had "giving trees" for donations to the Willmar Regional Treatment Center this year. And Paynesville Lutheran also sought donations to the Housing Coalition in St. Cloud - a transitional housing program that helps homeless families find housing - and to Ann Marie's Women's House - a women's shelter in St. Cloud.
Secret St. Nick Fund
Since 1990, the Secret St. Nick Fund has raised $29,735 for Christmas gifts for students in the Paynesville Area School System.
In 2004, the fund received $4,235 in donations, which was used to buy Christmas presents for 68 kids from 23 families. Both the total donations and the number of kids receiving presents this year are records.
Of the donations, $3,235 came from staff and other people, including memorials, and $1,000 came from school organizations, like the student council at the middle school, FFA, etc.
The idea for the Secret St. Nick Fund actually came out of a need for a "crisis" fund, said social worker Dave Mutschelknaus and elementary special education teacher Lori Asche, who co-chair the yearly drive. Students might need school supplies in the fall; snow pants or boots for winter; or help affording needed medicine, daily breakfast, or a class field trip.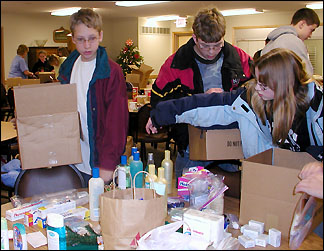 These "everyday needs," according to Asche and Mutschelknaus, normally started to arrive with the Christmas season, in late November or early December, when students would be lacking snow pants or boots for the playground.
The youth group from Nordland Lutheran Church filled Christmas boxes with treats send to troops in Afghanistan.
The "crisis fund," for example, has purchased shoes for students who had only one pair of shoes and had that pair spoiled after the family dog encountered a skunk.
Whether the year-round crisis fund provides winter clothing so students can let loose on the playground or whether it provides a nutritious breakfast, it helps their academics, said Asche. After all, it's hard to teach reading or math to a hungry student, she explained.
The Secret St. Nick Fund - which does not seek outside donations and aims to work in conjunction with other community charitable drives, especially the Paynesville Area Community Service Center - collected $475 in its first year, which bought Christmas presents for 10 students.
The money raised this year - breaking the record of $3,900 in 2003 - purchased gifts for 68 students, in addition to providing a healthy "crisis fund," said Mutschelknaus. While the district is supportive of the fund, no tax dollars go to the program, he stressed.
The Secret St. Nick Fund works like this. Staff see needs and make referrals to the organizing committee. Parents are contacted to see if they are willing to participate and submit their children's Christmas wish lists if they do.
These lists, along with the age and sex of the student, are given to volunteer shoppers to purchase gifts. The volunteer shoppers, mainly school staff members and their families, either wrap the presents themselves or bring them back to school, where other staff members volunteer to wrap presents during their breaks. Mutschelknaus then delivers the presents to the families the week before Christmas, as well as a turkey for Christmas dinner.
Typically, between donors, shoppers, and wrappers, around 50 people participate directly in the Secret St. Nick Fund each year, estimated Asche and Mutschelknaus.
Shopping, said Asche, has been an eye-opening experience for her kids. Instead of Play Stations, the students usually have much more modest wish lists.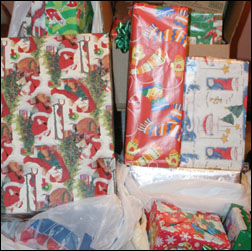 Chevalier, who has been a shopper for eight or nine years, agreed that her kids have learned about generosity, as well as budgeting, by shopping for the Secret St. Nick Fund. One year, her son loaded a handful of outfits into their shopping cart, said Chevalier, and she had to explain, and he had to learn, that their budget would not buy all these things.
In 2004, the Secret St. Nick Fund set new records with $4,235 raised, providing for gifts for 68 children from 23 families plus a crisis fund.
"I think it's just helping someone out. We had real low moments in our lives, and I guess this is just a way to help," said Chevalier, who added that the real reward "you get in your heart."
"If you shop," agreed Asche, "you get to see, firsthand, the spirit of Christmas."
Something as simple as a Bulldog sweatshirt can be a big hit for middle schoolers, said Asche. "In the middle school, that's huge to be wearing something that the other kids are wearing," she explained.
"Society says they all expect something for Christmas, either from Santa or their families," said Mutschelknaus.
The parents - who he sees when delivering presents - are generally grateful and humble, he added. One crying mother had nothing to give for Christmas, he said, and planned to wash her children's toys, rewrap them, and put them under the Christmas tree.
Being humble enough to accept help can be difficult, according to one mother, who said she accepts the help for her kids' sake. Without the Secret St. Nick Fund, they wouldn't get anything for Christmas.
Her kids would be "crushed" if they didn't get any Christmas presents, she said. Like all their classmates, they see advertisements and talk about things they want for Christmas. She just wishes she could give them presents herself.
Her reward, she added, is "to watch them open (the presents) up, to see the joy in their faces, to get to see them glow."
Gifts to Afghanistan
Bill Ryan, a disabled Vietnam veteran, knows from experience how much soldiers appreciate getting holiday greetings. "I know what it's like to be involved in a war and get a package from home," said Ryan.
Since he understood the needs of soldiers on duty in the Middle East, he decided to do something to help. For several weeks, he has collected holiday treats and other gifts to ship to local soldiers in Afghanistan.
Thanks to donations from local residents, churches, civic organizations, and businesses, youth from Nordland Lutheran Church packed 21 boxes with treats and gifts to send to troops of the 367th Engineering Battalion. Some members of this reserve unit, which has been deployed to Bagram Air Base since May, are spending their first Christmas away from home.
Ryan chose this unit, which is based out of St. Cloud, because four local residents - Jeremy Fuchs, Leon Fuchs, Jon Kulzer, and Crystal Ring - are members of it.
He was thrilled with the community's capacity for generosity. "When push comes to shove, this community comes together. This is the spirit of Christmas," he said.
---
Contact the author at editor@paynesvillepress.com • Return to News Menu
Home | Marketplace | Community
---