The Paynesville City Council passed its 2006 budget and tax levy last week, with projected city spending increasing by 7.5 percent and its tax levy by four percent.

The budget calls for general fund spending of $1,555,560, an increase of $109,507, or 7.5 percent, from its 2005 budget. The tax levy will increase by $18,645 to $484,100, an increase of 4.0 percent. Originally, the city's proposed tax levy called for a five percent tax levy, but this was lowered to four percent.

The city gets 37 percent of its general fund revenue from state aid ($579,129), 31 percent from its tax levy ($484,100), and 32 percent from other sources ($492,331) including 20 percent for charges for services.

The city spends, on the other hand, nearly half its budget on salaries, actually roughly 45 percent of its general fund expenditures are for salaries and benefits.
By category, the city spends 35 percent on public safety, 23 percent on general government, 20 percent on public works, eight percent on parks and recreation, seven percent on debt service, and seven percent on miscellaneous expenses.
While expenditures in 2006 are slated to increase 7.5 percent and the city's tax levy only 4.0 percent, state aid is expected to increase by $60,237 (11.6 percent) in 2006, making up the difference.
The city's general fund budget contains a number of areas where projected expenditures were increased for 2006, and a few where projected expenditures are expected to decrease. In all, budget increases totalled $143,867, while budget decreases were $34,360, netting a budget increase of $109,507.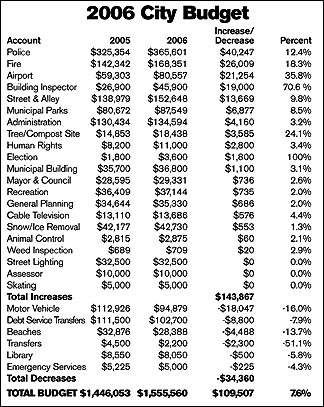 The largest budget increases were for the police department (up $40,247 in part for an extra office and new squad car), for fire protection (up $26,009), for the airport (up $21,254, with the largest increase being $6,000 for fuel purchases, since this exceeded last year's budget by that amount), for streets and alleys (up $13,669), and for municipal parks (up $6,877).
Substantial budget decreases included motor vehicle (down $18,047, mostly for salary), debt service transfers (down $8,800 due to lower scheduled payments), beaches (down $4,488), and the library (down $500). For motor vehicle, beaches, and the library, these budget reductions just match lower spending in 2005. The 2006 budget for motor vehicles is $94,879, while only $83,947 was actually spent by this department in 2005; the budget for beaches is $28,388, while only $14,670 was spent in 2005; and the budget for the library is $8,050, while only $5,516 was spent in 2005.
In other city funds, the sewer fund has budgeted $544,693 in 2006, up from $525,862 in 2005, or 3.6 percent. The city has kept the flat rates for sewer the same in 2006 but has increased the bulk rate (every 1,000 gallons over the first 2,000). With this rate increase, the sewer fund is projected to generate $552,978 in revenue in 2006. Additionally, the city will base sewer rates on first quarter usage, instead of fourth quarter usage, in 2006.
The water fund is budgeted to spend $384,485 in 2006, up from $368,551 in 2005, or 4.3 percent. The city raised its bulk water rates (for every 1,000 gallons above the first 2,000 gallons) by eight cents in 2006. These new rates will be $1.83 for every 1,000 gallons from 2,001-99,999, $1.78 for every 1,000 gallons from 100,000 to 500,000, and $1.77 for every 1,000 gallons above 500,000 gallons.
With the rate increase, the water fund is budgeted to garner $390,038 in revenue in 2006.
The largest water and sewer user in the city is AMPI, which is projected to have monthly payments of $27,540 in 2006, up $1,330 per month from 2005.
Finally, liquor store expenditures were budgeted to increase by $10,383 in 2006, to $756,061, only 1.4 percent. The liquor store is projected to have $760,000 in revenue in 2006. Top expenditures are purchases (72 percent) and salaries (14 percent). Revenue comes from beer sales (59 percent), liquor sales (22 percent), sales tax (eight percent), wine sales (seven percent), other sales (three percent), and tobacco sales (one percent).
---
Contact the author at editor@paynesvillepress.com • Return to News Menu
Home | Marketplace | Community
---