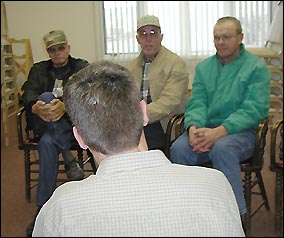 The easy part was agreeing that the existing federal farm bill has shortcomings. The problem is fixing them.

Gary Wertish (with back to camera), regional agriculture director for Senator Mark Dayton (D-Minnesota), held a meeting at the Paynesville Area Center last Thursday. Wertish has had 60 meetings with farmers in towns across the state, getting anywhere from a couple farmers to a couple dozen to share ideas.

In Paynesville, Wertish had three local farmers attend: (pictured from left), Curt Wegner, LeRoy Schlangen, and Leo Schlangen.

Freedom to Farm - the last federal farm bill - has been in effect for seven years, from 1995 to 2001. The original intention was to start the new farm bill in the 2002 crop year but now it's more likely that it will take effect in 2003, said Wertish.

The administration wants to stall the farm bill in the Senate, he added, and the Republican leadership has used procedural delays, but Senate Majority Leader Tom Daschle (D-South Dakota) intends to get it passed in the coming weeks.

The Democratic leadership wants to get the bill passed as soon as possible because they fear the budget for the farm bill may shrink as the economy declines. Right now, $73.5 million is budgeted for the farm bill and the Democrats want to use it, said Wertish, rather than wait and have to work with a smaller number.

Daschle, he said, believes he has the votes to pass the bill. "The administration is opposed to the bill, but I do think if we get one passed and on his desk he'll sign it," said Wertish.

Wertish said the bill could be subject to a number of amendments in the Senate as well, including the controversial proposal to allow oil drilling in the Alaskan Wildlife Refuge, which Senator Dayton opposes. "It's not worth the risk for the money we'll get out of it," explained Wertish. "He'd rather invest our money in renewables: ethanol and biodiesel."

Once it passes the Senate, the bill must go to conference committee and then get signed by the President before it becomes law. Significant differences between the House and Senate bills are for the length of time (five years in the Senate bill and ten years in the House bill)

The Paynesville farmers offered a number of suggestions to Wertish during an informal dialogue. They reached a couple of points of agreement with the him: that the current bill did not work as expected and that the real solution was a better market for crops and ag products.

"The old system really worked with a (government) reserve, a support price, and a limit to production," said Wegner. "We didn't like to be told what to plant, but it worked."

Freedom to Farm was passed with the thinking that we would export our way to more prosperity, said Wertish, but it hasn't happened. Wegner pointed out that land costs in South America, an emerging producer, are fractions of the cost in America. Plus countries like Brazil and Argentina have devalued their currency, which has made their costs of production for agricultural products lower than American farmers can match.

Another problem with the export market has been the reluctance in Europe to the American use of genetically modified varieties of corn and soybeans. "We have to compete with all these other markets," said Wegner, "and we have a large supply that we can't get rid of."

And, therefore, prices are low. "What we did with Freedom to Farm was lower prices throughout the world, not just in the United States," said Wegner.

"I don't think taxpayers should be liable for support," he added, "but we can't survive without it."

The real problem is the low prices, agreed Wertish. In his 60 meetings around the state "the common theme is everyone wants a check from the market," he explained. "They don't want a subsidy check."

"We need to build markets within our country," he continued. "We need to use up as much of our product as we can."

"The government has a strategic reserve in oil and other things. There's no reason they don't have one in grain. It's just as necessary as an energy reserve. We can't look at it as a cost but as a need," said Wegner.

Senator Dayton introduced supply management - which Wegner supports - to the Senate Agriculture Committee, according to Wertish, but it died due to lack of support. "There's not much interest in doing that anymore," he explained.

Senator Dayton's bill also included a grain reserve, targeted small- and medium-sized producers, and raised the loan rate, according to Wertish. "He tried," he said. "He tried very hard, but it's tough to get that through."

With corporate agriculture increasing in states across the country (from the south to the west), Minnesota's family farmers have less and less allies among the bigger operations and agri-businesses around the country.

"In a way we're lucky to have the 1,000-cow dairies," said LeRoy Schlangen, who also noted that decent milk prices in three of the last four years have helped farmers around here survive. "Else what would the plants do?"

The men agreed that prices needed to be enough so that smaller farming operations could stay in business.

One thing that Leo Schlangen was pleased to hear about the Senate bill was that farmer's bases might get updated. Right now, bases (average acres planted multiplied by average yields) are based from the 1980s, he said, and are really unfair.

Some producers now have to survive with a small base, while others with a large base are not farming actively anymore. During the latest emergency government payments - which used the old bases - some retired farmers got checks while farmers who were really suffering didn't get what they needed, he said

Under the Senate bill, farmers would have the option of updating their bases for the 1998-2001 crop years or to keep their base from the last farm bill. Farmers can decide based on whichever is better for them, said Wertish. "The attempt is to make it more fair," he added.

Other suggestions from the Paynesville men ranged from allowing farmers to cut buffer strips as a hay crop at certain times to allowing farmers to update some tile systems, not just fixing it.
---
Contact the author at paypress@lkdllink.net • Return to News Menu
Home | Marketplace | Community
---