When Diane Seegers began school this year, she did it as the new chemical health coordinator at Paynesville Area High School.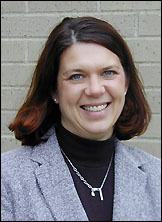 Seegers is a state licensed alcohol and drug counselor. Her position is contracted by the St. Cloud Hospital and is paid by grants from the Stearns County Family Service Collaborative and by money paid to Stearns County Human Services by the state's tobacco settlement. Currently the grants pay for Seeger to be in the school district three days a week.
As the school's chemical health coordinator, Seegers provides tobacco, drug, and alcohol abuse counseling, intervention, and prevention programs to students and their families. She also provides chemical health assessments to determine a need for drug or alcohol treatment. Her services are available to students and their parents, and she can also give referrals to the public.
One of the highlights of her work at Paynesville, she said, has been getting the kids involved in Target Market, a program that teaches teens the dangers of tobacco use.
Seeger, a Sartell native, holds a bachelor of science degree from St. Cloud State University in psychology and drug and alcohol counseling. She has worked at the prison in St. Cloud - where, she said, she learned how to be resilient and to deal with people who resist treatment - and has held similar positions in the Sartell and Rocori school districts. She also spends one day a week in the BBE School District.
Seegers finds it rewarding to work with young people. "Every school has an element of students at risk, and Paynesville is no different," she said adding that young people with addictions to drugs, alcohol, or tobacco usually respond better to intervention because the addiction isn't stronger than the consequences as it often is the case with adults.
---
Contact the author at reporter@paynesvillepress.com • Return to News Menu
Home | Marketplace | Community
---