Students learn while making holiday breads
This article submitted by Linda Stelling on 12/16/97.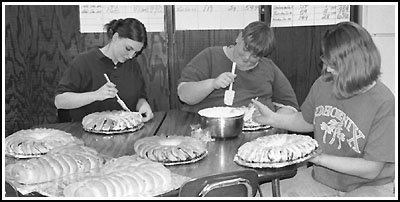 Students in the Paynesville Area High School Family and Consumer Science program learn task management skills each holiday season.
Since 1992, the students have made and sold more than 2,753 holiday breads to area residents, friends and relatives. This is the 10th year for the project.
Students in grades 9 to 12 set goals for their work and learn task management skills and gain work experience. Between four classes, Karen Odberg, instructor, has about 50 students.
As part of the task management skills, the students learn to seek help when needed, strive for accuracy, accept suggestions and criticism, manage their time well, stay on task, arrive ready to learn, use resources appropriately, keep trying (if one bread batch doesnít turn out, start over), generate goals and plans for achieving, contribute to group work, participate in class activities, follow safety rules, use materials responsibly, demonstrate respect for others, take responsibility for his or her acts and turn work in on time.
In this case, turning work in on time, means getting the required number of holiday breads baked and delivered to meet customer needs on time.
The students go out and sell 15-inch cherry apricot candy canes or 14-inch cinnamon raisin tea rings. They bring their orders back to the class and get to work.
The students are divided into groups, some are measuring ingredients, others spreading out the bread dough, while others cut and shape the finished product.
Odberg said they use an average of 30 and 35 cases of bread dough each year.
At the holiday choral concert, they sold 39 holiday breads. As of Dec. 11, they had taken orders for 260 breads. ďBy Dec. 22, we should sell and deliver about 500 holiday breads,Ē Odberg said.
Students come into the classroom during their study hours, before and after school to complete the bread orders. She has even had alumni students come in to help out when they are home from college.

---