Accident on Highway 23 injures three
This article submitted by Linda Stelling on 12/16/97.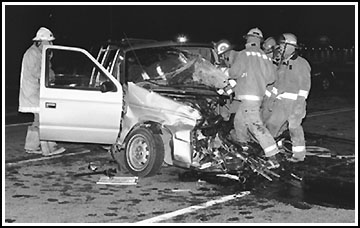 A three-vehicle accident on Highway 23 involving a van, pickup truck and a semi was reported to the Minnesota State Highway Patrol on Tuesday, Dec. 9, at 4:35 p.m. The accident happened on Highway 23 near the intersection of County Road 10.

A 1991 Chevy pickup driven by Benedict J. Gertken, Richmond, and a 1990 Dodge van, driven by Matthew S. Nelson, Willmar, sideswiped each other on Highway 23. The van rotated, sliding down the highway and colliding with a 1991 Peterbuilt semi driven by Rod Lafferty, Elkton, S.D.

Nelson and his wife, Kristen were injured in the accident and taken by the Paynesville Ambulance Service to the Paynesville Area Hospital. Nelson sustained a leg injury and Kirstin was treated and released. Their four-month-old child, Eliaha, who was strapped in a child safety seat, was not injured. Gertken was taken to the hospital where he was treated and released. Lafferty was not injuried.

---