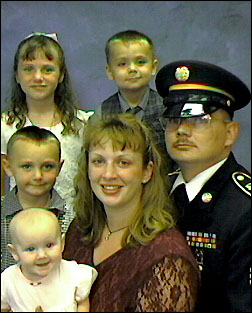 After spending nearly a year separated from their father, Gabrielle, Dylan, Stephen, and Caroline Johnson are hoping for the best Christmas gift of all this year: having their dad, staff sergeant Todd Johnson, home from Iraq.

JoAnn Johnson received a phone call from her husband early on Saturday morning informing her that he had made it safely from Iraq to Fort McCoy in Wisconsin and that he should be home before Christmas after nearly ten months of active duty overseas.

After spending 10 months apart, the Johnson family hopes to be together for Christmas. Todd and JoAnn Johnson are pictured here with their children - (front to back) Caroline, 2; Dylan, 7; Gabrielle, 10; and Stephen, 5 - before Todd left to serve in Iraq.

Even though she is overjoyed that her husband is safe, it is very frustrating knowing that Todd is just in the next state but she can't see him, laughed JoAnn. If she had a way to get on post - the base is closed except to soldiers - she would be there in a heartbeat, but she's made it this far so she can wait a little longer, she added.

Soldiers returning from Iraq need time to debrief, decompress, and adjust to being back in the United States, said JoAnn. She knows her husband will need to get checked over before going home, but it doesn't make the waiting any easier.

With any luck at all, Todd will be home on Sunday but Dylan is still worried that his dad may not make it before Christmas.

When Todd does finally get home, the Johnson family has a lot of celebrating to do, starting with a welcome home party.

After that, the family is planning a huge birthday party. "As soon as he gets here, we're going to have a birthday party for all of us," said seven-year-old Dylan, a second grader at PAES.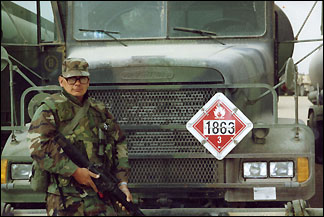 Because Todd missed Dylan's birthday - as well as the birthdays of 10-year-old Gabrielle, a fifth grader; five-year-old Stephen, a kindergartener; and his own - a huge joint birthday party is on the agenda. Todd didn't miss Caroline's birthday - she will turn two in January - but they will throw in a celebration for her, too, for good measure.
Staff Seargeant Todd Johnson is back in the United States after spending 10 months in the Middle East with his reserve unit. Johnson is a truck driver attached to the 353rd Transportation Company in Buffalo.
Then they can move on to celebrating Christmas.
Todd is a member of the Army Reserves 353rd Transportation Company in Buffalo. He was activated and sent to Iraq in February, just months after moving his family to Paynesville from Virginia.
This was not the first time the Johnson family endured a long separation, and it is not the first time Todd has been in danger. Before returning to the area and joining the Army Reserves, Todd spent six years on active duty.
He was stationed at the Pentagon on 9/11 when terrorists blew up a portion of the building. It was only by a stroke of luck - Todd was out running an errand - that he wasn't in the building that day.
He also spent a year in Egypt on a peace-keeping mission, and though American soldiers weren't the targets of violence then, there was always the chance that he could be caught in the crossfire of warring tribes, said JoAnn.
This deployment, however, was more difficult for his family because he was in more danger than ever. Plus, this time some of the children were old enough to understand that their father was in danger.
Even though she's thrilled that her husband is in Wisconsin and is no longer in danger, JoAnn said her heart goes out to the soldiers that are still in the Middle East as well as their families, especially the families of the 23 soldiers from Todd's unit that had to stay behind in Iraq.
JoAnn would like for service men and women and their families to know that she is proud of them and she is praying for each of them. Hopefully, they will all soon be home celebrating with their families.
---
Contact the author at editor@paynesvillepress.com • Return to News Menu
Home | Marketplace | Community
---