Lynda George surrounds herself with angels at home. Wooden angels, ceramic angels, and wire angels rest on tables and hang from walls throughout her home.

The angels remind Lynda and her family that Christ loves them, and that angels are looking over them, she said. According to her friend Carol Halvorson, Lynda is an angel herself - a "Faith Angel." That's why Halvorson recently nominated Lynda for an award that honors people who use their faith to comfort, encourage, and help others.

Because of Lynda's steadfast faith and her influence on others, she was recently honored with the "Spirit of a Champion" Award from Cellular 2000 and Spirit 93, a christian radio station in Sauk Rapids.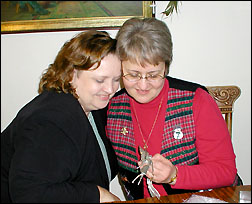 "Lynda is a constant reminder of Christ's love," said Halvorson.
Halvorson thought Lynda, who lives in Paynesville and runs a daycare, deserved the award because she doesn't wear her faith loudly but because it radiates from her. She is a tremendous influence on the people around her, even though she doesn't force it on them, said Halvorson.
Lynda George (right) receives a birthday angel from her friend, Carol Halvorson. Because Lynda is her "Faith Angel," Halvorson nominated Lynda for the "Spirit of a Champion" Award from Spirit 93 radio.
Halvorson thought for a long time that Lynda deserved the award, but nominated her last month because she thought the Christmas season was the right time.
Halvorson's nomination read: "Lynda is a peaceful, caring person, and whenever friends are about, they say they always feel love."
Lynda believes that faith is the most important thing in her life. She grew up in church and her faith was instilled in her for life, she said. "Faith, family, friends. That's the way I want to live my life," she explained.
Halvorson thinks "Faith, Family, and Friends" should be carved on Lynda's tombstone because that is the way she has lived her life.
Lynda and her late husband, Scott, relied heavily on their faith when he was diagnosed with multiple sclerosis in the early 1980s and again during the last couple of years when Scott was fighting cancer.
When Scott died in March, Lynda needed her faith more than ever, she said.
Even though she was in tremendous pain, Lynda was still able to reach out to others, said Halvorson. In fact, how Lynda kept her faith during Scott's illness is just one of the reasons Halvorson nominated her friend. "Lynda has an amazing ability to care for others, even when she's going through a difficult time herself," wrote Halvorson in her nomination.
According to Halvorson, Lynda is an inspiration to everyone around her, even the children in her daycare. She doesn't nag; she doesn't push; she just exudes faith and love. "She nudges people in the right direction, and they don't even realize it's happening," laughed Halvorson.
Lynda is a faith angel to many people who don't even realize it, added Halvorson.
Lynda will receive an award certificate, and her name has been mentioned on Spirit 93 radio.
Normally, Spirit of a Champion winners are featured on the station for a week, but Lynda has been featured for about three weeks now. Halvorson believes Scott is the reason for this. "Scott is up there saying more people ought to hear about this," she laughed.
---
Contact the author at editor@paynesvillepress.com • Return to News Menu
Home | Marketplace | Community
---