Students of the month are named for December
This article submitted by Linda Stelling on 12/15/99.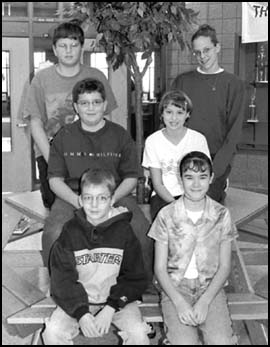 The Students of the Month for December were announced recently by the staff at the Paynesville Area Middle School.

Staff members select students for the honor who display leadership, receive good grades, and show a good work ethic. Each honored student receives a certificate, a six-pack of pop, and a gift certificate for food.

Selected for December were sixth graders Tanya Whitcomb (front right) and Adam Flanders (front left); seventh graders Kayla Mackedanz (middle right) and Justin Butkofski (middle left); and eighth graders Jessica Virant (top right) and Derek Burris (top left).

According to her teachers, Tanya Whitcomb, daughter of Don and Brenda Whitcomb, is responsible, hard working, pleasant, and studious.

Tanya is active in speech and choir. Her hobbies include collecting trolls and key chains. She also enjoys figure skating, gymnastics, and roller blading. Tanya is proud and feels very honored to receive the honor. She studied for tests and handed in her classwork on time.

Adam Flanders is the son of Randy and Mary Flanders. According to his teachers, he is a hard working student, pleasant, responsible, and respectful of others.

Adam enjoys sports and is looking forward to playing baseball and football next year. Among his interests are playing sipa and video games.

Adam feels good about receiving the honor. He said he tried hard to hand all his assignments in on time.

Kayla Mackedanz is the daughter of Rick and Sandy Mackedanz. According to her teachers, she is a considerate, hard-working student, who gets along well with her peers and does quality work.

Kayla is a member of the seventh grade basketball team and sings in the choir. Her interests include music and playing sports.

Kayla was surprised to receive the honor, but is also very happy and proud. Justin Butkofski is the son of Jim and Debbie Butkofski. Justin has a good sense of humor, according to his teachers. His teachers added that he is well liked by others and consistently turns in quality work.

Justin is a member of the seventh grade basketball, football, and baseball teams. He lists sports as his interest.

Justin is happy about winning the award. He said he worked hard to get good grades.

Jessica Virant is the daughter of Bill and Jeanne Virant. According to her teachers, she is well mannered, an enthusiastic student, and pleasant to be around.

Jessica is a member of the eighth grade basketball and volleyball teams. She also performs in the band and choir. Among her interests are swimming, sleeping, and sending e-mail.

Jessica said she was surprised to receive the honor. She added that putting in a lot of effort towards her grades probably helped.

Derek Burris is the son of Paul and Sue Burris. According to his teachers, he is respectful of others, attentive, friendly, and has a positive attitude. Derek enjoys playing football and wrestling. His also likes to hunt.

Derek feels good about winning the honor. He added that participating in school and helping others contributed to his receiving the honor.
---