Wally's G & T switches to Supervalu
This article submitted by Michael Jacobson on 12/15/99.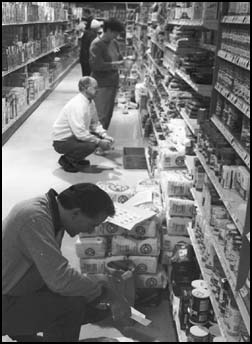 The Fairway Foods era in Paynesville ended last week.

The wholesale food company will be closing in February, and last week a team of workers from Supervalu were at Wally's G & T Foods to retag the shelves.

The tags--the adhesive label on the shelf with the price and the bar code--will enable Wally's G & T to order from Supervalu. Wally Thyen, store owner, said one new feature of the tags is a price per ounce that will make comparing prices easier.

Pictured are a couple dozen workers from Supervalu spent last Wednesday retagging the shelves at Wally's in preparation for the switch over.

He expected to make his first order Wednesday afternoon and expected the first shipment from Supervalu to arrive over the weekend. With Fairway Foods closing, reordering has been difficult. Thyen called the empty spaces on the shelves embarrassing. "When we leave the store Saturday, we'll have things filled up, faced up, and ready to go," Thyen said last week.

For at least 50 years, Paynesville has had a Fairway Foods grocery store. Art Peterson bought the store in 1943 and it was a Fairway Foods store then, according to Peterson's daughter, Marilyn Hoiseth. Thyen arrived in 1962, first as the manager for Elmo Gaspar, then as a partner, and finally as a sole proprietor.

With two busy weeks ahead, Thyen wouldn't have made the switch any closer to Christmas. He called Supervalu "the Cadillac of the business" and thought the switch would improve his business. Supervalu is the largest food wholesaler in the country. His was one of the first Fairway Foods stores to switch. Most others will wait until after the new year.

Also this winter, Thyen expects Supervalu will be doing some shelf management at his store, including rearranging some shelves.
---