Bowden retires from army after three decades
This article submitted by Michael Jacobson on 12/15/99.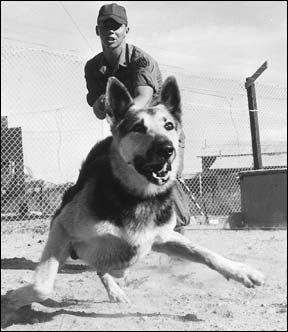 A military career that began with the Vietnam draft in 1969 ended last week in retirement. Command Sergeant Major Robert Bowden retired from his post with the U.S. Army's 88th Regional Support Command on Saturday, Dec. 4.

"I'm ready," said Bowden, whose day job is teaching sixth grade history at Paynesville Area Middle School. "I've hit it hard for a lot of years, especially the last four years."

Pictured is Bob Bowden with is dog, Thunder, in Vietman.

In his last post, Bowden was the highest ranking noncommissioned officer in the 88th Regional Support Command, which encompasses units in six states and has a required staffing of 28,000 soldiers. The Army Reserves are divided into 10 regional commands, with the 88th Regional Support Command being the second largest unit, encompassing about 15 percent of the 200,000 reservists in the country.

In the current organization of the army, the line between active and inactive units is increasingly blurred. During the Cold War, reserve units were trained in case of an all-out war, but when the army was reorganized after the Gulf War, to meet challenges of rapid deployment throughout the world, the reserves took on a more active role in combat support.

They are no longer "weekend warriors" who spend a couple days a month training. All of the army's Judge Advocate General units, all of its water supply battalions, all of its petroleum supply battalions, 77 percent of its hospitals, and half of its transportation commands are in the reserves. "It's no longer 'if' but 'when' you'll be mobilized," explained Bowden.

He described his latest military assignment as a full-time job that he did on a part-time basis. Every night he would correspond via e-mail to subordinate command sergeants major in Minnesota, Wisconsin, Illinois, Indiana, Michigan, and Ohio. On weekends, he might work 30 hours, either at the 88th's headquarters at Fort Snelling, in St. Paul, or on trips to bases throughout the country.

"I tried to take off a weekend a month, but I never did," he said.

"I did a lot of traveling," he added, shaking his head at the hours spent in airports and on airplanes. He's visited Virginia three times in the past year, been to Guatemala (where soldiers under him were helping in the aftermath of Hurricane Mitch), learned airline schedules to and from the Twin Cities airport, and decided that the airport in Detroit is his least favorite.

A native of Norcross, Bowden was drafted into the Army on March 19, 1969, and served for a year in a sentry dog unit in the central highlands of Vietnam. He worked with a German Shepherd named Thunder until he was promoted to sergeant in command of a sentry dog team.

After attending college upon his return, he took a teaching job in Paynesville in 1973 and first became involved in the reserves as part of the Company C, 1-409 Light Infantry Battalion that was stationed in town. "Actually," he said, "I was going to try the reserves for three months." Those three months grew into a quarter century, in part because of the support he got from his wife, Candy, and his family.

In April 1987, he was selected Operations Sergeant Major of the 205th Infantry Brigade in St. Paul, a decision that forced him to commit his time to the army and led him to quit being an assistant wrestling coach for the Paynesville Bulldogs. Since then, he served as the Command Sergeant Major of the Third Battalion, Third Infantry (Old Guard) and then of the 205th Infantry Brigade for three and a half years, and as the Command Sergeant Major of a transportation battalion for two years.

In December 1995, he began serving as the Command Sergeant Major of the 88th. It is a tenured position, with a four-year term. He worked closely with the commanding officer of the 88th, a major or two-star general.

"I like to say I was drafted and too dumb to quit," he said. Until now, that is. He could have applied for a full-time position in Washington, D.C., but decided it was time to quit.

"I've enjoyed what I've done. I take a lot of pride in it," he said. "It certainly gets in your blood. I've always liked the orderliness (of the army)." He will also miss the people he worked with and the prestige of the job, but he won't miss the travel, the late nights, and the time away from his family.

A civilian dinner in Bowden's honor, attended by 250 people, was held in Minnetonka in October. At that dinner, he received a United States flag that flew over the capitol in Washington, D.C., on Aug. 21, over the state capitol in St. Paul on Sept. 21, and over the 88th's headquarters at Fort Snelling on Oct. 21.

On Saturday, Dec. 4, his official retirement was celebrated with a formal ceremony with army personnel and his family in attendance. In addition to plaques and presents he received that night, he was awarded a Legion of Merit from the U.S. Army.
---