For the fourth straight year, the Paynesville Area School District has operated with a positive balance, according to the district's annual audit, which was presented to the school board last week.

In 2004-05, the district posted an increase of $283,032 from operations in its general fund. This raised its general fund balance to $845,238, the highest for the district since 1998-99.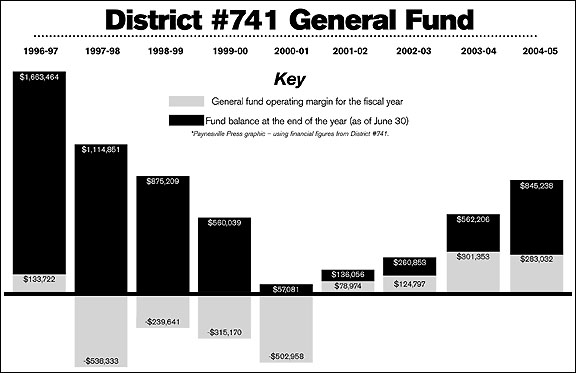 From July 2004 to June 2005, which comprised the 2004-05 fiscal year for the school district, it had $8.753 million in general fund revenues and $8.470 million in general fund expenditures, netting a positive balance of $283,000 for the year.
"We're moving in the right direction," said superintendent Todd Burlingame, who was quick to stress that the district needs to remain vigilant about its finances.
While it may be tempting to spend all it can on kids, which is, after all, the mission of the school district, the districts need to be financially responsible, too, stressed Burlin-game. No one, he added, should want to return to statutory operating debt, as was the case with the district four years ago when the large budget cuts were required to restore the district to sound financial footing.
"We don't want to fall back into that," said Burlingame. To compensate for declining enrollment, the district wants "to make small cuts each year."
Since 1994-95, the district has lost over 300 students in its enrollment. (As larger classes have graduated, they have been replaced in the district by smaller kindergarten classes.) In 1994-95, the district's enrollment peaked at 1,429. Since then, it has fallen to below 1,100. During the past decade, the district has lost as many as 75 students in one year (from 1999-00 to 2000-01).
In the past three years, though, those enrollment losses have steadied. In 2003-04, the district had an opening-day enrollment of 1,101; in 2004-05 it was 1,098; and in 2005-06 it was 1,085. However, this year (2005-06) actual enrollment has averaged closer to 1,090.
Since kids equal dollars in education funding, this is good news for the district, said Burlingame.
In fact, the district's current enrollment has only four grades - all in the high school - that have more than 90 students. (Right now, the district averages 96.5 students per class in grades 9-12 but only 77.7 students per class in grades K-8).
But this year's kindergarten class had 88 students, and next year's is conservatively projected at 80.
The next step, said Burlingame, is for the district office staff to revise the current budget for 2005-06.
This budget - which projects a deficit of $354,751 - was passed in June, before the legislature included a four percent funding increase for 2005-06 (and another four percent for 2006-07). Since then, the district has also settled two-year contracts with its teachers, custodians, and food service staff, as well as received its favorable audit. Burlingame used a three-percent inflation factor in the budget for expenditures but did not include any increase for revenues, since the legislature had not reached an agreement by the end of June, when approval was needed for a new district budget.
So, in the coming revision, projected revenue for 2005-06 should increase more than projected expenditures, closing that deficit.
In recent years, the district budgets have been conservative, overestimating expenses and underestimating revenues. (Burlingame said he would continue this practice, saying its better to be surprised by better financial numbers in the audit than to have an unexpected deficit.) In 2004-05, the audit revealed the district budget had a variance from actual general fund operations of $413,000 (revenues were underestimated by $325,000 and expenditures were overestimated by $89,000).
Burlingame expects to bring a revised budget to the school board in January and then use that budget to establish a target for budget adjustments for 2006-07. Administration will then work on a budget adjustment proposal to bring to the board later this winter. Key factors include staff retirements (which have been used in recent years as the primary basis for reductions, with some positions simply not replaced or rehired); the secondary school schedule (which will be better known after registration in February); and kindergarten enrollment for 2006-07 (which will be better known after kindergarten round-up in March).
Burlingame said the district will need to look at class sizes and class offerings while keeping an eye on the fund balance, too. Class sizes in the elementary school can be lowered by adding teachers, and class offerings in the secondary school can be widened by adding teachers. Meanwhile, enrollment declines necessitate teacher reductions (hopefully through retirements, or attrition, rather than pink slips).
There have been clamorings in recent years to add staff at the elementary school to lower class sizes and to add offerings at the secondary school, including more college-credit classes, which the district is currently researching.
Secondary school principal Lorie Floura told the school board last week that she would like to look at some schedule concerns with her teaching staff, in particular the high number of students who have two study halls (34 percent of seniors and 37 percent of juniors). One way to remedy this would be to require more credits for graduation, but this requires offering more electives.
Even though PAHS is a double five-star high school this year - one of 12 in the state - the district needs to continue to strive for high achievement, agreed Burlingame, while watching its finances closely.
The district's general fund balance as of June 2005 includes $621,321 in unreserved balance (excluding reserved funds like capital ($155,962) and the Weaver Trust Fund ($90,067). This $621,321 balance represents a 7.3 percent reserve based on 2004-05 expenditures of $8.470 million. The school board has sent an informal goal to have a general fund reserve of eight percent, which would represent having one month's expenditures in reserve, said Burlingame, which is just a good business practice.
Having a reserve is important, he stressed, when the district faces things like higher costs (such as for fuel) or unexpected costs (such as boiler replacement). One area of concern is the district's roofs, which need to start being replaced.
During the past few years, the district's capital fund balance has gradually declined (partly due to smaller enrollment). One reason to maintain a general fund balance is to have money in case a roof caves in, said Burlingame.
In 2004-05, the audit revealed the following activities for the district's other funds. The food service fund increased by $1,120 and had a balance of $127,067 as of June 2005. The community service fund (Community Education) had a decrease of $26,826 but still had a fund balance of $44,754 as of June 2005. And the debt service fund had an increase of $158,904 and a fund balance of $3.390 million as of June 2005 (of which $3.147 million is in escrow for a bond refinancing, leaving a real balance of $242,749).
The building construction fund (for the auditorium/fitness center project) had $5,148 as of June 2005.
---
Contact the author at editor@paynesvillepress.com • Return to News Menu
Home | Marketplace | Community
---