The Paynesville Fire Department could use a few more volunteers.

The department - which has been looking to hire new members for 18 months and has had only three applicants, two of whom are expected to be approved as hires by the Paynesville City Council on Wednesday, Dec. 13 - needs to hire new blood to replenish its numbers and to prepare for future retirements.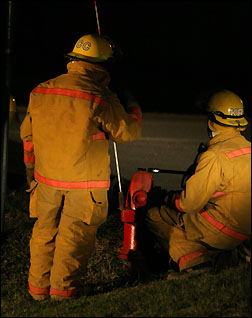 With the two new hires, the Paynesville Fire Department will have 26 members again, after having only 24 for months. According to the fire department bylaws, the department is supposed to have 25 or more firefighters. Another four firefighters are eligible for retirement, said fire chief Jack Winter, and could retire anytime.
The Paynesville Fire Department, which has been trying to hire new members for 18 months, needs new members with more retirements looming.
The department should have 25-plus firefighters because it needs to have 16-18 people for every call, said Roger Torborg, a captain for the department, as well as its secretary. Since firefighters are not paid for call (just for time on the scene and training), turnout varies. "That's the idea," said Torborg. "Very seldom you'll have 100 percent."
"Whoever shows up, shows up," added Winter. "Somedays it's pretty lean."
The department takes three vehicles minimum to a call. Usually the first three are the pumper with four fighters, the tanker with two, and the rescue vehicle with up to eight).
The Paynesville Fire Department responds to 50-75 calls per year with roughly a third being actual fires. Even when responding to an accident, though, the department needs 16-18 firefighters to handle traffic, help with extrication (if needed), help the ambulance crew, etc.
According to two St. Cloud Times articles in November about local fire departments, 72 percent of firefighters nationwide are volunteers (per the National Fire Protection Association) and of 18,000 firefighters in Minnesota, 16,200 are volunteers (per the Minnesota Fire Service).
Paynesville Fire Department members get paid for time at the scene, for training, and get a pension after 20 years. They are on call, 24 hours per day, seven days per week. They train two Monday nights per month and have a meeting on another Monday each month. Plus, they attend committee meetings and do other jobs around the fire hall.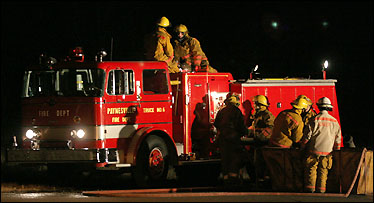 Cities the size of Paynesville cannot afford full-time firefighters, noted Torborg.
"I'd say we've got more volunteer hours than paid hours," said Winter, who also thanked all the employers who allow their employees to serve on the fire department and rush on a minute's notice to a fire or accident.
The Paynesville Fire Department conducts two trainings each month on Monday nights as well as one monthly meeting. They respond to 50-75 calls per year, of which a third are actual fires.
One training per month is about truck familiarization, said training officer Dave Lange, and the other is from a long list of possible subjects, including much mandatory training. "We take a lot of pride in the training we do," added Len Gilmore, the department treasurer.
Hands-on experience is the "best teacher," the officers agreed. Another reason why the department needs to continue to get new members is that it wants a mix in experience, so that more veteran members can continue to teach newer members in the future.
To become a firefighter, just fill out an application at city hall. Council approval is needed to become a probationary member, which lasts for one year. New firefighters have two years to complete the required training courses on basic firefighting and being a first responder, which are 150 hours in length in all. These training courses are usually offered in St. Cloud or Willmar, unless there are enough new members to offer them in town. Firefighters must also live within a two mile radius (as the crow flies) of the fire hall.
Firefighting has changed a great deal in the past quarter century, said assistant chief Dennis Nacey, who will have served on the department for 29 years in April and who can still recall the controversy when the department purchased four masks and three small bottles as breathing apparatus.
Firefighting used to be very defensive, the officers added, standing on the outside and pouring water onto the fire.
Instead of "surround and drown," firefighters today are entering buildings, using thermal imaging to find the sources of the fire, and knocking out the hot spots to kill the fire.
"I think firefighting today is more an offensive fight," said Winter. "It used to be very defensive. Now you're attacking the fire. Trying to put it out."
"Even though we're more aggressive, we're safer," added Winter.
The work is challenging, said Nacey.
The "rush," said Len Gilmore, makes being a firefighter "a hell of a hobby."
"To me it's fun, and it's interesting," said Winter.
"And it's different every time," added Gilmore.
"No matter how many times you've done it, it's always chaotic for the first 15 minutes," agreed lieutenant Ron Mergen.
There is "some gratification when the job is done," said Winter. Providing a public service and keeping the community safe is what's volunteer fire departments are all about, said Winter.
---
Contact the author at editor@paynesvillepress.com • Return to News Menu
Home | Marketplace | Community
---