With the Federal Reserve Board cutting interest rates an unprecedented 10 times this year, rates have hit a 30-year low and lots of homeowners are taking advantage by refinancing their homes.

When the prime interest rate hit 5.53 percent in October, it was at its lowest level since 1972. According to Tracy Bushman, real estate officer at Community First National Bank, interest rates a year ago were at 8.75 percent. In early December, interest rates were around 6.8 percent on a 30-year loan and 6.2 percent on a 15-year loan.

Community First National Bank has seen the number of people refinancing increase steadily since the first of the year. Bushman said the bank has refinanced more than 60 home loans and has another 60 waiting to be processed.

Homeowners have two main options when refinancing. They can reduce their loan and lower their monthly payments. Or keep their payments the same, take out a larger loan, and use the extra money to make a large purchase.

Homeowners can consolidate debts and still have extra money to purchase a new vehicle, new snowmobile, or take a dream vacation, said Chris Stanley, branch manager at the Central Minnesota Federal Credit Union.

A general guide for consumers on when to refinance is to wait until the current interest rate is a percentage point lower than they are currently paying, said Bushman. For instance, if you are paying 7.5 percent, they should consider refinancing at 6.5 percent.

There is no limit on refinancing, but the process does have costs. The expenses - typically a couple thousand dollars but depending on the size of the loan - are built into the loan. Homeowners must be planning to stay in the home for long enough to recover the refinancing costs of their new loan.

Before refinancing, Bushman suggests homeowners look at their debt load and credit record, as both are taken into consideration by financial institutions when refinancing. Because of the slower economy, Stanley expects the interest rates to stay in the six percent range until the middle of next year and not go back up to eight percent, meaning homeowners may continue to refinance and to borrow money relatively inexpensively.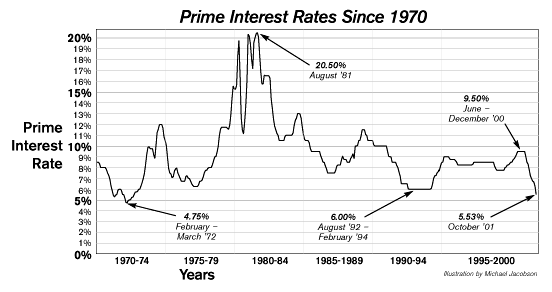 Investing
The lower interest rates have been good for the buyer but not for the investor, added Stanley. It has been especially tough on any elderly people who rely on interest income from certificates of deposit (CD).
One option, according to Stanley, is to liquefy long-term CDs and purchase short-term ones. This will keep your money from being locked in at low rates, so once the rates start climbing again you can get higher rates relatively quickly.
Troy Lateau, an investment executive at Community First National Bank Investments, agreed the low interest rates are hard for anyone wanting to supplement their income with CDs. In recent years, the rates have dropped from seven percent to three percent, he said.
People need to look at other options with rates at that level, he added. There are other relatively safe investment options, so Lateau suggested they seek advice before purchasing stocks or bonds that might not suit their needs.
Younger investors have time to see their investments in stocks and bonds bounce back from a bad turn in the market, but elderly investors might not have the money or time to wait for a rebound.
With stock prices low, it makes it affordable to get started in the market, said Stanley. "If you are young, this is the perfect time to invest," he said.
---
Contact the author at paypress@lkdllink.net • Return to News Menu
Home | Marketplace | Community
---