Paula Jo (Hemmesch) Davis, a 1981 graduate of Paynesville High School, recently attended a NASA Educator Workshop at the Glenn Research Center in Cleveland. Twenty-six educators from 14 states participated in the workshop with Davis, who is currently an eighth grade math teacher at St. Francis Junior High School in St. Francis, Minn.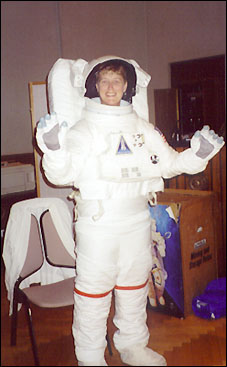 During the two-week workshop, the participants witnessed wind tunnel tests, learned about Mars exploration efforts, met with engineers currently working on the International Space Station, and participated in various hands-on space and aeronautics-related activities. The knowledge they gained in this program can be easily infused into their curricula to encourage their students' enthusiasm for math, science, technology, and geography.
Paula Jo (Hemmesch) Davis, a 1981 PHS graduate, recently spent two weeks at a NASA Educator Workshop at a research center near Cleveland.
The educators are also encouraged to spread the knowledge they gained at the workshop beyond the classroom to other educators and to their communities, resulting in heightened awareness of the importance of strong math and science skills in our technologically-dominated world.
The NASA Educator Workshop program was established in 1984. It is funded by NASA and is a collaborative effort between Glenn's Office of Educational Programs and the National Science Teachers Association.
Teachers attending the workshop learn about cutting-edge NASA technology, visit world class facilities, attend seminars given by NASA researchers, engineers and technicians, and study topics ranging from airplane flight to interplanetary exploration.
Davis said that the highlights of the two-week workshop included visiting several test facilities, including the world's largest vacuum chamber, seeing various sized wind tunnels, and examining jet propulsion engines. She also participated in a live video conference with astronaut Brian Duffy, who has been to the International Space Station four times.
She has returned to the classroom with an enthusiasm for how much mathematics and problem-solving skills are used in the aerospace program.
Davis is the daughter of Irene and the late Paul Hemmesch. She was a substitute teacher in the Paynesville School District for three years after returning from the Peace Corps.
---
Contact the author at editor@paynesvillepress.com • Return to News Menu
Home | Marketplace | Community
---