Loretta Thomes, 76, has retired from cooking and baking at Tuck's Cafe after 24 years. Thomes started working in the kitchen at Tuck's Cafe in 1978, after moving to town from the Zion Township farm where she and her husband, Frank, farmed for 30 years.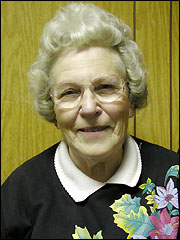 Thomes, who grew up on a farm near New Munich, worked in hospital kitchens in Richmond and St. Cloud as a "pantry girl" before getting married and moving to Zion Township in 1948. She learned to cook on the farm from her mother and grandmother, she said.
Loretta Thomes retired from cooking and baking at Tuck's Cafe.
And she learned to get up early on the farm, where they had to get chores done by the time the school bus came to pick up the kids at ten to seven in the morning. At Tuck's, six days a week, Thomes would rise at 4:15 a.m. in order to get to work by 5 a.m. (walking the half dozen blocks from her home to Tuck's Cafe) to do the baking, including pies, cook breakfast, and make the lunch special. "I enjoyed the work," she said. "I truly enjoyed the morning hours."
She wanted to continue working until spring, she said, but her legs and back forced her to retire in November. "The kids said, 'Mom, you're ready to retire.' And that's what the doctor suggested," explained Thomes.
Thomes does plan to keep working at the Paynesville Press one day a week as an inserter and to keep helping on the farm, now owned by her son and daughter-in-law. She has 10 kids, 23 grandkids, and seven great-grandkids.
In retirement, she can sleep a little later, but she plans to attend daily 8 a.m. mass at St. Louis Catholic Church. She also wants to stay active by quilting, crocheting, playing cards, and spending time with her family.
---
Contact the author at editor@paynesvillepress.com • Return to News Menu
Home | Marketplace | Community
---