"Scrooge" has successful opening
This article submitted by Michael Jacobson on 12/8/99.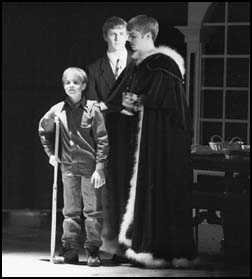 Around 350 people attended the opening performances of "Scrooge" last weekend.

The musical, a broadway musical based on Charles Dickens' holiday classic, "A Christmas Carol," is being presented by the Paynesville Area High School, but only half the performers are in the high school. The cast requires performers of all ages, and both middle school and elementary school students acted in it.

On Friday night, the musical opened on the elementary school stage before about 150 spectators. On Saturday night, a crowd of about 200 people attended.

"It went pretty well opening night," said Scott Ingalsbe, who portrays Ebenezer Scrooge. "We were all pretty nervous, but once it got going it went well."

Pictured at right are: Tiny Tim (Dugan Flanders), Ebenezer Scrooge (Scott Ingalsbe), and the Ghost of Christmas Present (Cody Wiig). 'Scrooge' will be repeated on Saturday, Dec. 11, at 3 and 8 p.m.

The cast actually had had only one complete run-through prior to opening night, at dress rehearsal on Thursday night. Allison Thompson, who plays Mrs.Crachit and Mrs Fezziwig, said the opening went "a lot better than I expected." She said they were short of rehearsal time, especially with lights and props.

Musical director Ken Vork said the opening performances were not expected to be flawless and there were "relatively few considering the complexity of the show."

"Both of the performances were really good," he added. "They were a little more comfortable on Saturday."

"The kids pulled together for a great performance," agreed director Erin Kehr, who said that the kids were tremendously tired from a long week of practice last week. "The energy they put out on stage was nothing short of phenomenal," Kehr said.

"The crowd reaction was good, so they must have enjoyed the performance," added Kehr.

Ingalsbe, Thompson, and Vork shared similar reports of receptive responses from spectators. "All the feedback I heard was extremely positive," said Vork, who also heard about the difficulty of the music. Despite that difficulty, he said the cast learned the music quite quickly because they are good musicians.

The musical was written by Leslis Briscusse in the 1970s as a movie, which the cast watched on the first night of practice to get a feel for the production. It was later adapted into a musical for Broadway.

"We got a lot of compliments afterward and in school today," Ingalsbe said on Monday night. He thanked everyone who had worked behind the scenes, including the parents of the younger performers who provided rides to and from practice.

"Most people really enjoyed it," said Thompson, "and they were impressed they could hear."

Thompson added that she was looking forward to resting her voice before the musical resumes next Saturday. A matinee performance will be presented at 3 p.m., with an evening performance at 8 p.m. "This is extremely unusual in this town to do a two-weekend show," said Kehr, who is hoping for large crowds this weekend.

"I think it will be fun to see how it goes on the second weekend," said Ingalsbe.

In addition to people who didn't have a chance to see it last weekend, the cast and crew will welcome repeat business. "If you saw it once," said Vork, "come and see it again."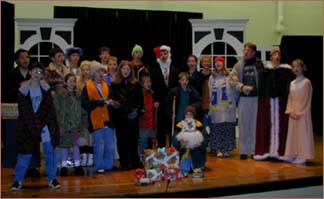 Cast (pictured at right)
Scrooge: Scott Ingalsbe;
Tiny Tim: Dugan Flanders;
Bob Cratchit: Ryan Lang;
Mrs. Crachit, Mrs. Fezziwig: Allison Thompson;
Isabel: Becca Gardner;
Harry: Tony Thielen;
Ghost of Christmas Past: Trista Dukowitz;
Marley: Ryan Flanders;
Ghost of Christmas Present: Cody Wiig;
Fezziwig: Mark Braun;
Scrooge as a young man, Butcher: Joe Halvorson;
Scrooge as a boy, Tom Jenkins: Adam Ingalsbe;
Ghost of Christmas Yet-to-Come, Dick Wilkins: Andrew Jones;
Street urchin: Lauren Vaske;
Kathy Crachit: Rheanne Zimmerman;
Peter Crachit: Troy Gerding;
Martha Crachit: Ginelle Zimmerman;
Bess: Courtney Colbert;
Merchant, Boy: Matthew Larson;
Helen: Sami Tierney;
Beggar woman: Emily Mehr;
Mrs. Pringle: Lindsey Pelton.
Stage manager: Anne Janotta;
Stage assistant: Megan Nyffeler;
Director: Erin Kehr;
Musical director: Ken Vork;
Lights and sound: Mike Putzke;
Set construction and props: Mackenzie Merrill, Erin Kehr, and Antonia Kehr.
---