Nordland Lutheran Church is burglarized
This article submitted by Michael Jacobson on 12/8/99.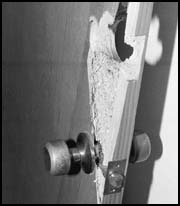 While walking to her office at Nordland Lutheran Church on Friday, Nov. 26, the day after Thanksgiving, Vicky Pearson, the church's secretary, thought it was strange that the door to Pastor Keith Ainsley's office was open. The church heats only the essential rooms during the week in the winter, so everyone tries to keep their doors closed.

When Pearson got to her office, the cause became clear. Her door was open, too, and it was missing its deadbolt lock. A hole had been torn in the door, so the deadbolt could be reached.

A set of keys, yielding access to the church, was taken from Pearson's office.

Sometime during Thanksgiving night, person or persons unknown broke into the rural church. The perpetrator apparently used altar candles for light and broke in the secretary's office door with a heavy object, possibly a crowbar.

The other offices were searched, along with other parts of the church. Pastor Keith Ainsley said that wax trails were left all over the church, providing clues to the perpetrator's movements. "You could sort of see where they'd been," agreed Pearson.

Taken from the church were a boombox radio, laptop computer, about $50 in cash, some frozen food, and the set of keys. The cards and gifts of the Secret Sisters were opened as well, but what was taken from these was unknown at press time.

Both Ainsley and Pearson said the burglars were apparently looking for valuables. "They probably missed a lot of things because it was dark," said Ainsley. At least the burglar was neat, added Pearson, who was thankful that there wasn't any more damage.

Church activity on Friday took a backseat to the logistics of reporting the break-in, repairing the door, cleaning up, and changing locks. The Kandiyohi County Sheriff's Department sent a deputy. The incident is being investi-gated by their department.

"It's just frustrating," said Ainsley. "You feel violated."

Ainsley wasn't surprised at all that a church would be the target of a burglary. "Not these days," he said, with a laugh. "Churches aren't off limits these days."

Actually, there's good reason why Ainsley wasn't surprised. Nearly eight years ago the rural church, located in Irving Township, was also burglarized. And before that, the church had trouble with its lawnmowers being stolen.
---