Paynesville Township hires full-time employee
This article submitted by Michael Jacobson on 12/8/99.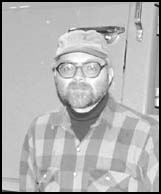 Paynesville Township has hired Terry Kulzer (pictured at right) as its first full-time employee to handle maintenance in the township.

Kulzer, a Paynesville native who still lives here, started working for the township on Nov. 15, after working out of town for several years. He got his first experience in mechanics from his father while growing up, took auto body training after high school, and has done maintenance as a profession for years for companies like Cold Spring Granite.

As the first full-time employee, his duties will be adjusted until a satisfactory arrangement is found. "His job description is going to be changed until we get it fine tuned to where it's running efficiently," said township supervisor Don Pietsch.

"It's new to me and it's new to them," agreed Kulzer.

"This is something that's never been tried in the township," said township chairman Johnnie Olson.

His primary duties at the beginning are expected to be snow plowing in the winter and cleaning and mowing the ditches in the summer. The township has 45 miles of roads, and depending on the amount of snowfall it could take up to 12 hours to plow all the roads. If we ever start to get the above-average snowfall that has been predicted this winter, then Kulzer could be very busy just keeping the roads clear. The township owns a used snow plow.

In the spring and summer, Kulzer will be charged with mowing the ditches along those same roads. For mowing, the township owns a tractor with rear, side, and boom mowing attachments. The township could hire Kulzer out to other townships for mowing ditches.

The township board started to consider the hiring of a full-time employee over two years ago, according to Olson. "People want good service," he said. "We just had more demands. It was getting to be more than the supervisors could handle."

Pietsch agreed that the moved was part of the township's growth process. "As we become more and more populated, the demand for services is greater," he said. "A lot of this fell onto the supervisors or part-time help."

Hiring part-time is difficult these days, Pietsch added, and not as efficient at delivering timely services for the residents. "We think we're at the stage where a full-time maintenance man is a necessity," he said.

Kulzer will also organizing the shop into a full-time work place, including tools and an office. When he is in the shop, he will be able to answer the township phone (320-243-7500).

If things work out, Kulzer could become involved in the permitting and inspection processes as well.
---