Brossard starts new business
This article submitted by Linda Stelling on 12/8/99.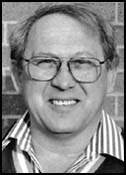 Roger Brossard (at right), Paynesville, started a new business, Koronis Photography, out of his home on Northwest Koronis Road, this summer.

"I had been talking about doing something for a while," Brossard said. "I retire from the post office in September of 2001 and needed something to do in my free time. I like taking pictures, I have been doing it all my life. My wife, Dorothy, said she would help."

Brossard has been taking correspondence courses to improve his photography knowl-edge. He has also been upgrading his photography equipment, purchasing more professional equipment.

"I'm very critical of myself, and I have even surprised myself with some of the photos I have taken," Brossard said. He added he is available to take any type of photo, from portraits to wedding, pet photos, and landscape.

Brossard currently has been working weekends and evenings for his photography business as he doesn't want it to interfere with his regular job.

"My only regret is that I didn't start earlier. I have learned a lot about lighting. I would be lost without my flash meter," he added. "I'm flexible and open to suggestions on different poses for pictures. Photography needs to be fun, photos that make lasting memories."
---