Thirty-five PAHS choral students traveled to Orlando, Fla., over Thanksgiving to sing in a mass choir at Walt Disney World.

Every night, from Thanksgiving to Christmas, guest choirs form a mass choir at Epcot Center and perform two concerts with candlelight processionals.

The PAHS choirs traveled to Disney World in 2000 to participate in this mass choir and were selected again, based on their audition tape, to participate again in 2004. They were accompanied by director Cheryl Bungum and by seven adult chaperones.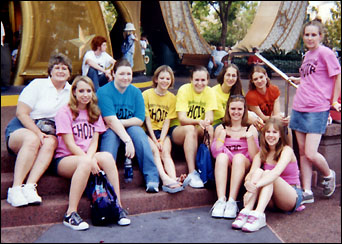 They are the only choir from Minnesota to participate in the mass choir at Disney World this year. Disney World expects a total of 24,000 amateur vocalists to participate in the mass choir and candlelight performances during the five-week season in 2004.
A group of PAHS girls - along with chaperone Mary Mackedanz - posed for a picture during their visit to Walt Disney World.
The PAHS choir members and chaperones spent from Tuesday, Nov. 23, to Sunday, Nov. 28, in Orlando. They left Paynesville at 3:30 a.m. on Tuesday morning, flew to Florida, and arrived in time to go to a water park that afternoon and to Disney World for supper.
On Wednesday, they visited MGM Studio; on Thursday, they traveled to Cocoa Beach on the Atlantic Ocean and watched the fireworks at the Magic Kingdom at night; on Friday, they visited Epcot Center, had rehearsal in the afternoon, and performed at 6:45 p.m. and 8:15 p.m.; on Saturday, they went to the Animal Kingdom and returned to Epcot at night to watch World Illuminations. They flew home on Sunday.
"My favorite thing was watching my students from Paynesville perform at the candlelight processional at Epcot on Friday night," said Bungum. "It is such a moving experience to hear over 200 voices singing along with the Disney Orchestra and professional singers. I cannot fully describe the total effect that the lights, setting and sound can have on the audience."
"I believe it was a very special honor and experience for the Paynesville Area High School choirs to be 'cast members' of such a professional organization. Everything is so well done and organized, and it was an honor to be accepted," added Bungum. "I hope other students will be able to participate again in four years. It is an opportunity of a lifetime."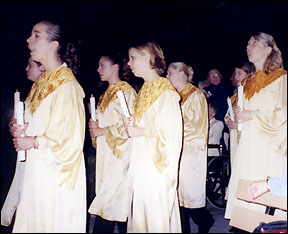 The PAHS Treble Choir and the PAHS Mixed Choir will present the music from the Candlelight Processional, along with a videotape of the actual performance at Epcot Center, at their holiday concert on Monday, Dec. 13, at 7:30 p.m. in the school auditorium. Prior to the concert, at 6:30 p.m., choir members will hold a stockholders' meeting in the auditorium for parents and interested community members to see pictures and video of their trip and to share memories with students.
Sophomore Danielle Binsfeld (second from right) enters with the mass choir during the Candlelight Processional at Epcot Center.
The following students went to Florida with the choir: seniors Alisha McCorquodale and Katie Schletty; juniors Courtney Colbert, Tiffany Gronseth, Amanda Halvorson, Allyson Klenke, Rebecca Leyendecker, Caitlin Lien, Shonda Martinson, Emily Mohr, Sidney Moser, LeAnn Nepsund, Lindsey Pelton, Shawn Reinke, Jess Sheets, Jessica Thielen, Lauren Vaske, Kacie Wander, and Lindsey Wyffels; sophomores Ashley Atkinson, Danielle Binsfeld, Bryce Fischbach, Dugan Flanders, Kaila Hartmann, Holly Johnson, Stephanie Johnson, Emily Lindeman, Marissa Mackedanz, Jen Moburg, and Peder Thompson; and ninth graders Katrina Daby, Meghan Doll, Natasha Fangmeier, Amber Gray, and Kim Magedanz.
Following the trip, Bungum asked her students what they learned from the trip and what their favorite memories were. Below are selected comments from the students.
"I thought it was really neat. I am glad we were able to perform. It is really hard to explain how wonderful it was to be singing in the choir." Sophomore Emily Lindeman
"That we are all great singers and there are so many awesome people. I will never forget how it felt up on the stage." Sophomore Danielle Binsfeld
"My favorite part about Orlando was all the firework shows. Also that everything done at Disney World is ten times better than what anyone could imagine."
"It was quite the honor to be accepted to sing with all those beautiful voices and wonderful people." Sophomore Marissa Mackedanz
"I thought I was going to be super nervous at the performance, but it wasn't that bad. In fact, I had a lot of fun singing in the massed choir. I guess it's pretty fun to perform for all those people." Ninth grader Natasha Fangmeier
"Meeting all the new people from all over. I will definitely keep some of my friendships." Sophomore Stephanie Johnson
"Disney World is so huge. People come from everywhere just to go there. So (Walt Disney) created a great thing." Sophomore Jen Moburg
"I liked the rides and all of the shows that were there. The performances in the shows were very good. I could tell they had to practice a lot. My favorite rides were a tie between the Aerosmith Rockin Roller Coaster and the Dinosaur Ride. The Dinosaur ride was really scary but also a lot of fun. Rockin' Roller Coaster was just awesome." Ninth grader Meghan Doll
"I liked all the big rides like the rollercoasters and things like that. I also had a lot of fun singing in the candlelight performance." Sophomore Ashley Atkinson
"I learned about myself and how much I love to sing and try new things. It's the only way to find out what you really like to do." "It's a real honor that a school this small got accepted to something so big. I know for me at least it was a life changing experience and something I know I will never forget. I think it would be great for everyone to experience this, its a once in a lifetime experience, everyone should experience." Sophomore Holly Johnson
"It is truly amazing to sing with 200 plus other singers." Sophomore Peder Thompson
"It felt really awesome, kind of like we are the best in Minnesota, to go and perform in a professional choir." Senior Alisha McCorquodale
"To me, it is a great honor and makes me proud of my classmates, my school, and myself." Junior Courtney Colbert
"Mrs. Bungum is so much better than the rest of the directors." Senior Katie Schletty
"I learned how many people there are in this world. Going from little Paynesville to huge Orlando was quite a change. There were so many lines everywhere. I not only had to wait in line to see shows and go on rides but to eat and use the restroom." Junior Shonda Martinson
"To widen my horizons and dream as much as possible." Junior Lindsey Wyffels
"There are so many different people in Disney. From Americans to people from England or Japan. You really need to be able to stand in lines for a long time. A 45-minute wait time in line is short." Junior Rebecca Leyendecker
"The ocean was so beautiful. To be able to watch my friends get beat up by a four foot wave was funny. Just to be able to say I had been to the ocean was really cool to me." Junior Amanda Halvorson
"I really enjoyed getting to know all the people that were singing my part. One of them was from Kansas and another from Maryland, but we still were able to sing together like we had been doing it for years." Sophomore Bryce Fischbach
"Swimming in the ocean was really fun. Otherwise going to the kingdom and watching the fireworks show was great." Junior Sidney Moser
"I liked singing in the candlelight performance at Epcot. It was an amazing experience to be able to sing with other choirs from different places." Junior Allyson Klenke
"My favorite thing would have to be watching the shows. My favorite show was Beuty and the Beast." Junior LeAnn Nepsund
"I loved everything in Orlando. It was so different than Minnesota." "I think that it is really awesome and amazing that a small town like Paynesville got chosen to sing in Florida. It was an amazing experience and I am honored that we got to go. It was also fun to tell people that we were there to sing for the candlelight performance." Junior Tiffany Gronseth
"The favorite thing that I did was swimming in the ocean. Me and my friend Sidney didn't want to get wet because we had all of our clothes on, so we just got our legs wet. Then all of a sudden a huge wave came and knocked us over, soaking us. So since we were already wet, we decided to keep swimming. Tiff, Sidney, and I kept jumping over the waves and getting overtaken by them. The salt water tasted nasty." Junior Emily Mohr
"This whole trip was so much fun. Disney does absolutely nothing small." Junior Shawn Reinke
"The experience was truly amazing - knowing that people waited for an hour in line to get seats to see you perform. When we were walking past where we were going to sing earlier that day, it was neat to see the signs and to know that was going to be us." Junior Lindsey Pelton
"To be the only choir from Minnesota accepted is an honor." Junior Lauren Vaske
"I also don't think we'd have the Disney opportunity if Mrs. Bungum wasn't able to pull so many strings." Junior Jessica Thielen
"The trip reinforced for me what great students we have in Paynesville and I have in choir. They represented Paynesville very well and I was proud of them." Director Cheryl Bungum
---
Contact the author at editor@paynesvillepress.com • Return to News Menu
Home | Marketplace | Community
---