Both the Paynesville Area Middle School play and the Disney film of C.S. Lewis' popular story, "The Lion, the Witch, and the Wardrobe," will debut this weekend.

While the Hollywood version of the morality tale will use computer graphics and visual splendor, the middle schoolers theatrical production will need to use their imaginations. The battle scenes, for instance, set in the magical land of Narnia, will force the audience to visualize. "The challenge will be that we're using a pretty bare stage, and (the audience) will need to use their imaginations and story knowledge," said teacher Jane Leitzman, who is directing the middle school play along with Ken Vork.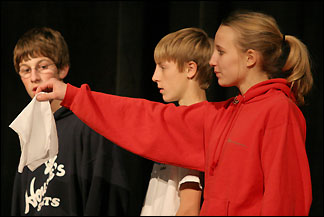 Two dozen students - in grades 6 thru 9 - form the cast of the one-act play, which is based on the script by Joseph Robinette, with some additional dialogue. Auditions were held in late September with practice starting in early October. After the staging of the musical "Bye Bye Birdie" by the high school choirs in November, practices moved to the auditorium, said Leitzman.
David Ruprecht, Hayden Spaeth, and Erin Guzy practice a scene in the middle school play "The Lion, the Witch, and the Wardrobe."
The performances - on Friday, Dec. 9, and Saturday, Dec. 10 - are both at 7:30 p.m. in the auditorium.
C.S. Lewis wrote "The Lion, the Witch, and the Wardrobe" in 1950, the first of his seven fantasy/adventure books about Narnia. In the story, four siblings - Edmund (Ralph Daby), Lucy (Kristine Hoeft), Peter (Patrick Hoeft), and Susan (Ashley Gleitz) - venture into the magical world through their wardrobe.
In the winterland of Narnia, they join a battle between the evil queen, the White Witch (Mariah Fuchs), and the good lion Aslan (Dillon Herem). Only with the children's help can Aslan defeat the queen and return summer to Narnia.
Paynesville students read "The Lion, the Witch, and the Wardrobe" in elementary school, said Leitzman, so the story should be familiar. Influenced by the conflict of World War II and by Lewis' Christianity, the story is a morality tale, as shown by the concluding line of the play, said Leitzman. "It is important that they return, for good people need good rulers. And good rulers need good people. That, perhaps, is the deepest magic of all," says Aslan.
"The Lion, the Witch, and the Wardrobe" was included in Time magazine's 100 best English-language novels since 1923. Since its publication in 1950, it has also been made into a television version (1988) as well as the play script and now the movie version.
For the play, which includes all sorts of animals as well as mythological characters like unicorns, elves, and centaurs, PAMS has borrowed costumes from the Great River Educational Arts Theater in St. Cloud.
Admission to the play performances is free, though a voluntary contribution will be collected at the door.
Performances
Friday, Dec. 9, 7:30 p.m.
Saturday, Dec. 10, 7:30 p.m.
Cast of Characters
The Lion, the Witch, and the Wardrobe
Aslan: Dillon Herem
White Witch: Mariah Fuchs
Lucy: Kristine Hoeft
Edmund: Ralph Daby
Susan: Ashley Gleitz
Peter: Patrick Hoeft
Mr. Beaver: Hayden Spaeth (Friday) and David Ruprecht (Saturday)
Mrs. Beaver: Erin Guzy
Unicorn: Isaiah Gleitz
Centaur: Mitchell Meed
Mr. Tumnus: Matthew Andersen
Fenris Ulf: Trey Stanger
Dwarf: Isaiah Gleitz
Father Christmas: Eric Fenske
Elf: Jeb Davidson
White Stag: Ethan Brown
Professor: Ethan Brown
Mrs. Macready: Jessica Solum
1st Animal: Dana Holtz
2nd Animal: Amanda Fenske
3rd Animal: Connor Hacklander
4th Animal: Jeb Davidson
5th Animal: Amanda Fenske
6th Animal: Gabrielle Johnson
1st Newcomer: Connor Hacklander
2nd Newcomer: Dana Holtz
Aslan's Followers: Connor Hacklander, Gabrielle Johnson, and Jessica Solum
Witch's Army: Avery Davidson, Jeb Davidson, Connor Hacklander, Dana Holtz, Mitchell Meed, Lauren Spaeth, Michael Vaske, and Travis Wensmann
Wood Nymphs: Amanda Fenske, Dana Holtz, and Jessica Solum
Narrator: Karla Leitzman
Directors: Jane Leitzman and Ken Vork
Sound and Lights: Mike Putzke and Shawn Reinke
Set: Harrison Fangmeier
---
Contact the author at editor@paynesvillepress.com • Return to News Menu
Home | Marketplace | Community
---