(Editor's Note: After Dale Lorenz retired in February 1991, he soon moved to Paynesville and lived on Lake Koronis for a decade before his death in September 2005. Before starting Normandale Community College, where he served as president until his retirement, Lorenz was also the founding president of Willmar Community College and was the president of North Hennepin Community College.)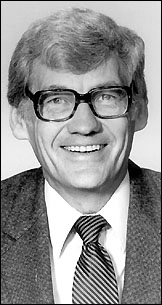 When Dale Lorenz went before the state board in the late 1960s with potential names for his new community college in Bloomington, one of the board members asked the founding president to pick his preference from the list. Without missing a beat Lorenz replied, Normandale, and the board accepted it.
Twenty years later, in a videotaped interview with Normandale history instructor Gloria Aronson, Lorenz commented with a smile on his face, "There have been a number of people who have said the reason it's 'Normandale' is because my first name is Dale." That was not true.
Lorenz, who died in September at the age of 75, was the founding president of what would become Minnesota's largest community college. To say he served Normandale well for 22 years is an understatement.
Philip Helland, the first chancellor of Minnesota's community college system, worked closely with Lorenz for over four decades. "I had great trust in Dale," said Helland. "He was the perfect choice for Normandale. He became a powerful leader for the college."
Lorenz once said, "The quality of a college is directly related to the quality of its people."
His first recruiting efforts brought in faculty members from the midwest and beyond. Aronson, who was hired from the University of California, Santa Cruz, recalled a faculty member from India at the time she came on board, as well as the U.S. history instructor from Australia who was involved in hiring her.
Said Aronson, "Dale valued the benefits of having instructors with a wide skills base and a wide range of backgroundsŠsomething we now call diversity. He had a real holistic approach to the idea of diversity at a time when the word wasn't even used yet."
Lorenz never believed in, nor practiced, the kind of leadership style where decisions are handed down from leather chairs in lofty towers. He believed that good decisions come from seeing the past, present, and future at eye level. Lorenz was a visionary who thought and planned ahead from that point of view.
One of his visions was to expand Normandale's student base beyond the 18-year-old high school graduate. An important part of his educational philosophy was to reach out to the community, to give new groups of people opportunities to expand their horizons. This brought adult evening classes and the Weekend College to the Normandale campus, as well as a Changing Horizons program for adults, workshops for women, and a child-care center for these nontraditional students.
Manley Olson, Normandale's first dean of liberal arts, agreed with the description of Lorenz as a visionary, calling him a leader who knew things. Some of that knowledge came from his intuition, but most of it was the result of his previous experience in education, his common-sense approach to getting things done, and his hands-on involvement with every aspect of everyday life at the college.
Nothing happened at Normandale without Dale being involved, said Olson. For Dale, Normandale was a 24-hour-a-day job.
Normandale communication instructor Mike Wartman, also a 1975 graduate of Normandale, agreed. "We use to joke a little bit that President Lorenz would tell his custodians how short the campus lawn should be mowed. He was always on the prowl, and it was a good prowl," he said.
Lorenz leaves behind a legacy that extends beyond the campus, beyond the Japanese Garden and marsh that edges its northern border. David Mathieu, Normandale's vice president for academic and student affairs said, "The development of two-year community colleges has been one of the most significant success stories in higher education, and Dale's work at the institutions he served provided guidance for a whole generation of community college advocates, leadership colleagues, and the public."
Aronson expanded even further, saying, "There will always be the symbolic legacy that remains visibleŠthe buildings, classrooms, the physical environment we all share. But when you step back to look at this canvas he created, you are reminded of the talent, the vision, and the dedication of the artist."
Current Normandale president Kathi Hiyane-Brown summed it up best when she said, "Dale's legacy teaches us what it means to have a dream and stay true to it. To set a goal and work to make it happen. To play an important role in the lives of people and be both humbled and rewarded by it. He may have denied the fact that he chose the name of our institution because of the 'dale' in that last syllable. But no one can deny that his name will always remain the cornerstone of this wonderful community college."
Normandale Community College in Bloomington, Minn., enrolls more than 11,000 students each school year. It is a member of the Minnesota State Colleges and Universities System, a network of 34 colleges and universities serving 225,000 students annually.
(This article was prepared by staff of Normandale Community College.)
---
Contact the author at editor@paynesvillepress.com • Return to News Menu
Home | Marketplace | Community
---