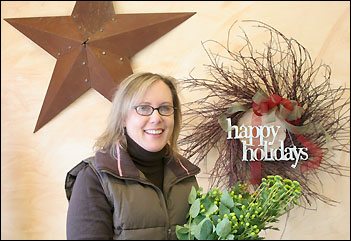 Karlene Gray has always been interested in flowers, so she jumped at the chance to purchase Corner Floral in Paynesville with her husband Robin.

The Grays purchased the business from Bob and Sue Brauchler in late August and renamed it Bloom Corner Floral. Karlene said she always loved flowers, but didn't want to compete with Sue.

Karlene trained in floral design in August in Minneapolis and said she loves her job. "I can barely sleep at night because I'm so excited to go to work in the morning," explained the 1987 PHS grad.

She loves using her creative side with flowers and design, she added.

Through her instructor in floral design, Karlene was one of eight florists to be asked to help decorate the governor's mansion for Christmas this year. The eight florists, along with a number of helpers, decorated the mansion on a single Saturday in November.

Mrs. Pawlenty, said Karlene, is of Swedish descent and chose a Swedish theme this year. It was a great atmosphere to work and exchange ideas with other florists, she added. Her instructor also does seasonal decorating at the White House, and Karlene is hopeful one day to participate in that.

Bloom Corner Floral still has fresh flowers and an all new inventory of fun furnishings, home decor, and gifts. While she still carries the classic of red roses with baby's breath, Karlene said she really likes to use a variety of flowers and she likes to have texture - berries, greens, and unusual colors - in her arrangements. She likes the creative aspect, "anything that stretches the imagination."

Her customers range from preplanned events like weddings to unexpected events like funerals and spontaneous shoppers.

The store's hours are still 8 a.m. to 5:30 p.m. on Mondays through Saturdays. Karlene has part-time help at the store, including holdover Jacquelyn Hertzberg.

Her husband Robin helps as needed, as do her kids Bailey and Hudson. "I love the location. I love being in Paynesville. I love the community. And I feel blessed to be here." said Karlene.
---
Contact the author at editor@paynesvillepress.com • Return to News Menu
Home | Marketplace | Community
---