The Paynesville Area School District operated in the black for the fifth straight year, and its $377,143 positive operating margin for its 2005-06 school year, as revealed by its audit last week, increased its general fund reserves to $1.22 million. (See chart at end of article.)

The district's general fund balance is the highest since the 1996-97 school year (when the district had $1.66 million in its general fund). (See chart on page 2.) This is the best balance the district has had in "quite a few years," said superintendent Todd Burlingame.

The district's 2005-06 school year ran from July 2005 to June 2006, and that general fund balance is officially as of June 30, 2006. The district's annual was presented and approved by the school board last week.

In 2005-06, the district received $8.90 million in revenue for its general fund and spent $8.53 million in expenditures, running in the black to the tune of $377,143. (The district's general fund includes the majority of school expenditures, including salaries, transportation, capital purchases, etc.)

In all, the district received $10.52 million in revenue in 2005-06 while spending $10.08 in expenditures.

The school board has set a guideline for a six to eight percent balance in its general fund, which represents about a month of expenditures. That $1.22 million represents a 14-percent fund balance.

But, according to Burlingame, of that $1.22 million general fund balance, $160,000 are reserved funds (staff development, etc.), $120,000 are pending payments to other school districts for special education billings, and $101,000 is the Weaver Trust Fund, leaving an unreserved fund balance of $840,145. This represents a 9.8-percent fund balance.

With the district having a healthy fund balance again, Burlingame warned against unrestrained spending, which could lead the district back into financial trouble. The district needs to avoid depleting its fund balance by large deficit spending. "We want to learn from our mistakes in the past," said Burlingame. "We don't want to see that trend again," he added.

From 2001-02 to 2005-06, after four years of deficit spending, the school district made over $1.5 million in budget cuts. This has enabled the district to rebuild its fund balance.

Burlingame advocated that the district needs to keep a healthy fund balance. "We've been through the pain (of major budget cuts), and it's not fun," he said.

Last spring, for the first time in five years, the district proposed a net spending increase during its annual budget adjustments, raising the district budget by $7,800. In a $10 million budget this is statistically even (technically, only a 0.09 percent budget increase).

Since the three largest classes in the district are the current senior, junior, and sophomore classes (which average 98 students), while grades K-9 average just 79 students per grade, the district will need to continue to adjust its budget for declining enrollment. Losing 100 seniors this spring, with a likely replacement kindergarten class around 80, translates into a $130,000 revenue reduction for next year.

Just having a fund balance, said Burlingame, puts the district in a much better place to adjust its budget. For the 2001-02 and 2002-03 school years, the district reduced its budget by $1 million ($500,000 each year), cutting programs and staff to hit a specific dollar amount.

To do that also required reducing staff through pink slips, noted Burlingame, while in more recent years the district has tried to made budget adjustments by deciding which retiring staff to replace. Burlingame calls this method as budget adjustments by "attrition."

With a fund balance, the district can handle a financial catastrophe, and no longer has to cut without considering the educational merits. The district, said Burlingame, needs to balance good educational programs and good student achievement with responsible spending.

With a healthy fund balance, budget adjustments this year are not necessarily budget cuts. While administration might suggest ways to save money, they also will likely lobby the board for additional spending in other areas. Last year, the district proved that budget adjustments could increase spending.

"To keep kids here - to have them not open enroll in another district or to go post-secondary option - you have to have good, balanced offerings," said Burlingame.

The schedule for budget adjustments this year is for the district office to revise the current budget and ask for board permission to prepare a plan for budget adjustments in December, said Burlingame.

After secondary school registration in February (giving the school a handle on staffing needs for 2007-08), after kindergarten round-up in March (providing estimated elementary school enrollments for 2007-08), and teacher retirements are formally submitted in March (a number of teachers should be eligible for full retirement), proposed budget adjustments should be discussed by the board in March and April and then approved.

The sooner budget adjustments are approved the better, said Burlingame, as the schools then can hire new teachers and get the best possible pool of candidates.

The 2007-08 budget - to be formally approved by the school board next June - will likely face major unknowns: funding levels from the state (should the legislature not finish in time again) and new two-year staff contracts with the teachers and support staff (which likely won't be finished by June).

While not ruling out another budget increase, Burlingame noted that the district does need to be cautious about additional spending.

When it comes to salaries, for instance, new spending compounds. If you add a new teacher, the first year maybe costs only $40,000, but over five years, that totals $200,000. With pay raises, over ten years one teacher may cost $450,000; over 20 years, maybe $950,000.

With district enrollment continuing to decline slightly, the district needs to be sure that its staffing levels are sustainable, said Burlingame.

The district also has significant capital and maintenance spending that has been delayed due to its hard financial straits in recent years. The district's five-year capital spending plan is never completed in five years, noted Burlingame, because emergencies occur and other items have to be delayed.

The audit revealed a positive budget variance for the district of $428,000 in 2005-06, meaning the district expected to run in the red slightly but turned out $377,000 in the black. The positive budget variance, over the past five years, has ranged from $356,000 to $428,000 and has averaged $390,000.

In 2006-07, the school district has a budget calling for deficit spending of $36,000, but if this positive variance occurs again, the district's general fund balance could increase again.

Burlingame said the district office staff are working at tightening the budget to reduce that variance and make budgeting more accurate.

The district office also has a new financial software program that can figure enrollments, staff needs, possible retirements, etc., which should help the school make more data-driven decisions about the budget, said Burlingame.

In addition to the general fund, the school district had a $173,000 balance in its Community Education fund (up $24,000 in 2005-06) and $132,000 in its food service service fund (down $2,000 in 2005-06).

In all, assets of the district total $19.46 million with $16.55 million in liabilities, leaving net assets of $2.91 million.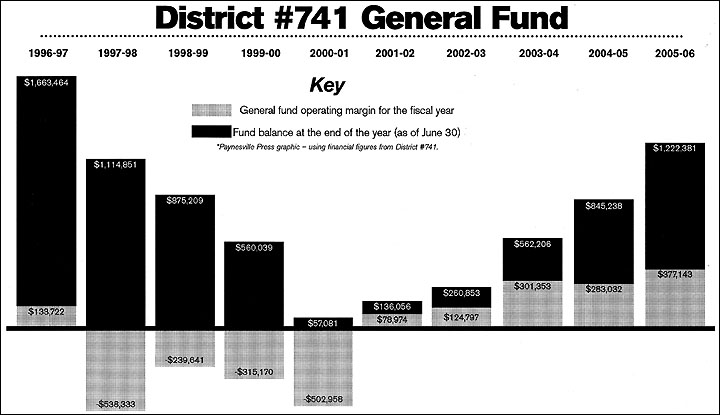 ---
Contact the author at editor@paynesvillepress.com • Return to News Menu
Home | Marketplace | Community
---