PAHS junior Allie Wendroth received her Gold Award - the highest award in Girl Scouts - on Sunday. Her Gold Award project was improvements done on the elementary school playground over the summer.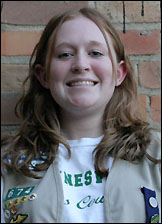 Born in Paynesville, Wendroth has been a Girl Scout since the second grade and said she has a vested interest in the playground where she played. "I wanted to do something outside. And I like kids," she said of her choice for the project.
PAHS junior Allie Wendroth became the 20th Gold Award winner for the Paynesville Girl Scouts, receiving the highest award in scouting on Sunday.
Wendroth received her Gold Award at a ceremony at Paynesville Lutheran Church on Sunday.
Wendroth is the first in her family to earn a Gold Award, yet she has six family members who have attained Eagle Scout awards, the highest award in Boy Scouts. "My three uncles got the Eagle award, so I wanted to be the first girl to get the Gold Award, carry on the tradition," she said. Other Eagle Scouts are her father Larry, brother Tyler, and cousin.
Wendroth gathered about 50 volunteers and worked 93 hours to scrape and repaint seven pieces of playground equipment with two coats of primer and three coats of paint. According to Wendroth, the equipment has not been repainted since its installation decades ago. She believes the colorful aesthetics make a positive difference. "I've heard a lot of compliments on it already and how nice it looks. I just think it adds a lot. It brightens it up," she said.
Wendroth's project also involved adding a new, wheelchair accessible gate outside the playground, across the street from Gazebo Park. This summer, a new crosswalk connected the playground and the neighboring city park. Wendroth bought two new signs that read "Chutes N' Ladders" and hang over the playground's two gates.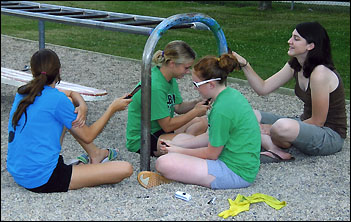 Her project also oversaw installation of a tetherball pole and a bench near the new basketball court, which was added this summer. A rolling ball cart - carrying basketballs, footballs, and soccer balls - was bought for students to use during recess.
Junior Allie Wendroth - center right, shown scraping paint with friends - made aesthetic and practical improvements to the elementary playground over the summer, including repainting seven pieces of equipment, and adding a tetherball pole and a bench by the new basketball court.
With extra funds, Wendroth purchased board games - Candyland, checkers, chess, Clue, and Sorry - for K-5 students to play indoors when weather keeps them from the playground.
A couple of years before, around 2004, Wendroth began to think about the project and what she might do. At the beginning of 2006, she began coming up with ideas and was interviewed by the Girl Scout board for her Gold Award in March.
Elementary school principal Deb Gillman worked with Wendroth throughout the playground project, meeting initially last spring to discuss her plans and corresponding improvements planned by the school. Gillman and Wendroth met again this fall to assess what was done over the summer.
Wendroth offered thanks to her parents, Larry and Sharon Wendroth, and to her brothers, Tyler, Tanner, and Tucker for their support. She also thanked community acquaintances, family members, fellow Girl Scouts, and friends who volunteered their time and services to the playground improvements. "The volunteers were awesome. I couldn't have done it without them," she said.
The painting, said Wendroth, was completed by at least 10 people a day for 10 days this summer.
She also thanked all the businesses and organizations who donated to her project and gave special thanks to Lou Louis, a Gold Award board member from Paynesville. "She kind of helped me through the whole thing," said Wendroth. "If I had any questions, I'd e-mail her and talk to her about it."
Paynesville Area Elementary School students directly contributed to improvements of their playground with a fundraiser. With help from the Gold Award board, Wendroth developed a fundraiser titled "Loose Change For Loose Paint." Last spring, she went to the 20 PAES classrooms, spoke to the students, and left a jar in each room. She asked the students to collect any loose change they could find around their homes, to dig behind their couch cushions, and to search nooks and crannies. After one week, the students surpassed the projected goal of $200, returning to school to add a whopping $1,500 to the jars.
Wendroth, who currently plans to become an elementary or middle school teacher, presented a six-minute video of photos, set to music, at a school board meeting in October along with an explanation of her playground improvements. She was awarded with a certificate of recognition from the school board and with thank-you cards and posters from the elementary students.
Wendroth has earned 18 badges and numerous awards before her Gold Award, including the challenge pin (requiring 15 hours of community service), a leadership award (requiring 30 hours of leadership), and the Silver Award. To earn awards, Wendroth helped organize a blooddrive at St. Louis Catholic Church in 2005, organized an after-school program with two of her troop members, and served as a soccer coach for Saturday morning youth community education.
Wendroth has also enjoyed her four-member Girl Scout troop, sold Girl Scout cookies (including the most in Paynesville one year), and gone to camps. "If I weren't in Girl Scouts, I wouldn't have been able to see all the different things, go on trips and stuff," she said.
The final requirement for the Gold Award was a project with a minimum of 50 hours of planning and work that "has a positive and lasting impact on the community," Wendroth said.
Wendroth said of her goal to attain the Girl Scout Gold Award, "I want to be part of the tradition. That was my main inspiration, I guess. And it's a big honor."
She is the 20th Girl Scout in Paynesville to earn the Gold Award, joining Amanda Skalicky and Lauren Vaske in August; Stephanie Louis and Michelle Monson in 2004; Mindy Meagher and Heidi Steinhofer in 2002; Jen Bruntlett, Courtney Fuchs, Rachel Koehn, Krista Kotschevar, Lisa Stanger, and Melissa Bachman in 2001; Kristen Freilinger, Sarah Lahr, Elizabeth McCarney, Molly Meagher, Lindsey Moser, and Jen Wendlandt in 1997; and Linnea Louis in 1993.
---
Contact the author at editor@paynesvillepress.com • Return to News Menu
Home | Marketplace | Community
---