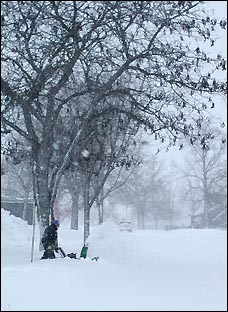 The snow hadn't even finished falling, and they were gone. Even before a possible record snowfall reached the ground, local dealers had sold nearly every new snowblower in stock.

Dick Wojtanowitz started plowing the sidewalks at the Good Samaritan Care Center last Tuesday, Nov. 27, even while the snow continued to fall.

A & C Farm Service, Paynesville Equipment, Paynesville Fleet Supply, and Arnold's of St. Martin all sold out of snowblowers on Tuesday. Jim Kent at A&C Farm Service said they sold 30 snow blowers during the storm.

"This week has been a frenzy," added Dick Storch, a salesman at Paynesville Equipment. "People get upset when we have to say, 'Sorry, we're out of snowblowers.'"

Torborg Equipment sold out of snowblowers on Wednesday, and Lake Henry Implement had sold all its new blowers by then, too. The only snowblower for sale at a store by then was one used blower at Lake Henry Implement.

Stores don't always sell all their snowblowers in the course of an entire winter, let alone during the first snowstorm. This year, they sold their new stock, plus any carry-over stock from last year.

Normally, the manufacturing companies stock snowblowers before the season and don't make any more during the winter. This means anyone who didn't get a snowblower last week might have trouble finding one this winter.

Arnold's of St. Martin, Lake Henry Implement, and Paynesville Equipment all had sold additional shipments of snowblowers before they even arrived last week.

As of Monday, A&C Farm Service had received another shipment and had some blowers on hand. Torborg Equipment had one tractor-mounted blower left. Paynesville Fleet Supply was still waiting for another shipment to arrive.

Snowblowers were a hot item in other communities as well last week. Local dealers received calls from customers as far away as St. Cloud asking about snowblowers.

Repairing a snowblower might be a better option than trading up this winter. Roger Torborg of Torborg Equipment said he has received lots of repair calls for blowers that can't handle the heavy, wet snow.

Repair calls have doubled at Paynesville Equipment, according to Steve Jenc, a repairman. "The snow is deep, wet, and hard on the equipment, finding the weak spots," he explained.

With lots of customers looking for snowblowers but a very limited supply, people might have to resort to continuing to move snow the old-fashioned wayÉby shovel.
---
Contact the author at paypress@lkdllink.net • Return to News Menu
Home | Marketplace | Community
---