A first-ever Red Cross bloodmobile at Paynesville Area High School was deemed a success last week.

The blood drive - organized by the student council and the National Honor Society - surpassed its goal of 45 pints of blood on Wednesday, Nov. 27, netting 56 pints of blood.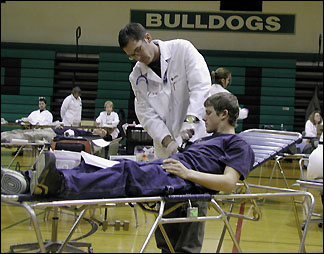 Having a blood drive at school is a way to get students involved, said senior Ann Stalboerger, the student council vice president who coordinated the drive. While students (17 and older) can give at regular blood drives, "here it's convenient for them," said. Stalboerger "They can do it during the school day. For most of the donors, it's their first time."
A nurse helps senior Scott Thomes to donate blood for the first time. Thomes was one of the 44 first-time donors at the first-ever bloodmobile at Paynesville Area High School. In all, 56 units of blood were collected, exceeding their goal.
In fact, there were 44 first-time donors, which is precisely the goal, said principal John Janotta. While not a large blood drive, having it at school allows students to break the ice for the first time and hopefully become regular donors in the future, he said.
At the recovery table, a show of hands by eight students revealed them all to be first-time donors. Reasons for donating ranged from getting out of class to peer pressure. For senior Scott Thomes, who just turned 17 this summer, this was his first opportunity to donate and he wanted to do something heroic, he said. Josh Williquette also turned 17 this summer. "Honestly," he said, "it's the first time I had a chance."
The Red Cross approached Janotta about doing a blood drive at PAHS, and he referred the matter to the student council and National Honor Society, which served as the local coordinating groups.
According to Stalboerger, everything went well, with a great response for a first time at the high school. "It's nice to see a good turnout," she said. "Hopefully, they'll do it again next year."
---
Contact the author at editor@paynesvillepress.com • Return to News Menu
Home | Marketplace | Community
---