Residents of Washburne Court, an assisted living facility in Paynesville, and their friends and family members - 95 people in all - enjoyed a wild game feed last week, thanks to Father Dick Gross, a retired priest from Watkins.

Father Gross cooked venison soup, venison roast, venison ribs, and bear roast for the residents. Staff and family members also donated ducks, geese, and pheasant for the meal on Tuesday, Nov. 25.

"It was terrific," said Neal Loudon, originally from Kimball and a resident at Washburne Court for four months. Loudon, 81, the uncle of Craig and Dave Heitke, has hunted himself since he was ten, going deer and duck hunting this year. "He is one helluva cook and a heckuva nice guy," said Loudon of Father Gross, who are both graduates of Kimball High School.

Gen Jerabek, 83, who went to high school in Paynesville, said her father was an avid hunter so her family ate lots of wild game while she was growing up. The dinner, on Tuesday, Nov. 25, was excellent, said Jerabek, who was disappointed only because she didn't get to try the bear, which ran out.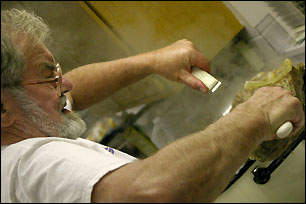 Father Gross shot the black bear he served near Babbitt, Minn., and shot the deer near Watkins, where he grew up and served as a parish priest, retiring in 2001 after 39 years as a priest. He still lives in Watkins and conducts weekly services at the Hilltop Care Center, which like Washburne Court is owned and operated by the Paynesville Area Health Care System.
The staff at Hilltop approached him about doing a wild game feed but because of nursing home regulations, it could not be done at Hilltop, said Jay Ophoven, administrator at Hilltop. Assisted living rules, though, allowed for the wild game feed.
Father Dick Gross, a retired parish priest from Watkins, lifts a bear roast and prepares to cut it. Father Gross fixed venison and bear - that he had hunted - for a wild game feed at Washburne Court last week.
Father Gross hunts deer, bear, ducks, geese, squirrels , rabbits, and just about anything else. "I hunt whatever there is to hunt," he said. He also fishes and takes mission trips to Catholic churches in Alaska each year so he can fish there.
He keeps a nine-foot freezer full of meat that he has shot or caught and likes to say that he "lives off the land." The only meat that he buys is bacon, he said.
He also does his own butchering, and he uses family recipes. "My dad was a great hunter so basically the recipes I got come from my mom," he said.
Though he always cooks for his relatives at deer camp, he has done few large meals like this wild game feed. He did cook 26 geese for a benefit while he was a parish priest in Ortonville, and he cooked a meal for former Senator Gene McCarthy, also a Watkins native. That meal got Father Gross ink in the Star Tribune thanks to columnist Pat Reusse, who was in Watkins to watch a baseball game, said Gross.
---
Contact the author at editor@paynesvillepress.com • Return to News Menu
Home | Marketplace | Community
---