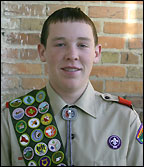 Tyler Wendroth will become the 30th Eagle Scout from Paynesville on Sunday, when he receives the highest award in Boy Scouts.

Tyler Wendroth will become an Eagle Scout on Sunday, joining his dad, Larry, and his uncles, Loren and Lyle, who also became Eagle Scouts in Paynesville.

Tyler, a sophomore at PAHS this year, has earned 31 merit badges - more than the 21 required - and has completed his Eagle Scout project. Tyler, the son of Larry and Sharon Wendroth, will receive his award at a Court of Honor on Sunday.

He and his father will become the first father-and-son combination in Paynesville history to both become Eagle Scouts. Larry Wendroth - and his two brothers, Loren and Lyle - all earned Eagle Scout honors in the late 1970s.

Having his father and uncles who were Eagle Scouts inspired Tyler, who thought the honor would be cool to have and a good accomplishment. "Probably since I was a Tiger Scout, I wanted to be an Eagle Scout, too," he said.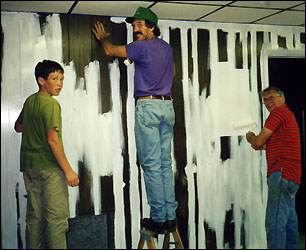 Wendroth said he enjoys the annual camping trips that he makes with the Boy Scouts. In addition to the local troop's annual trip to Camp Cayuna, last summer he, his dad, his grandfather, his uncles, and his cousins attended a scout camp in Wisconsin together. "You get to go different places that you wouldn't get to go if you weren't in scouts," said Tyler.
For his Eagle Scout project, Tyler Wendroth coordinated and completed some improvements at the Head Start building in Paynesville, including painting the dark paneling white. He got help painting from his dad, Larry, and his grandfather, Bud, along with nine other Boy Scouts.
For his Eagle Scout project, Tyler organized and completed improvements at the Head Start building in Paynesville, which is actually owned by the Paynesville Area School District. He had to secure permission from the school board to make the improvements - which included painting the interior, building flower pot holders for the front, and constructing a sand box for the students to use.
He also had to get money for the supplies - totalling nearly $750 - split by the Paynesville Lions, the Paynesville Lutheran Church Endowment Fund, and Paynesville Township. He got such a good deal on his supplies from M&M Lumber that he was able to purchase a sign for the Head Start building, too.
Nine scouts - Nathan Christman, Jake Deadrick, Jared Eickhoff, Keegan Meagher, Russell O'Fallon, Sam Rittenhouse, Joey Rondeau, Justin Stransky, and Brad Torborg - helped Wendroth paint the interior of the Head Start building, which was dark paneling until they painted it white.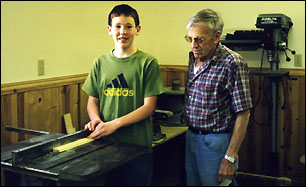 Tyler got volunteer help from Donald Nepsund to build the flower pot holders for the front of the building, and he built the sandbox for the back with his dad.
In all, his project entailed 131 hours of work, including 32 by the other scouts; 44 by adult volunteers, including his parents and grandparents; and 55 by Tyler.
Tyler Wendroth got help in making the flower pot holders for the Head Start building from volunteer Don Nepsund.
His parents have both been scout leaders for Tyler and his siblings - Allie, an eighth grader; Tanner, a fifth grader; and Tucker, a first grader - who are all involved in scouting. Wendroth - who also likes to ice fish, hunt, snowmobile, skateboard, and farm and plays golf at school - plans to continue to be active in scouting and to continue to earn merit badges, hoping to earn some palms for the extra badges.
Eagle Scouts from Paynesville - according to Press records - are: Craig Brinkman, Paul Brunik, Steve Dosdall, David Easterday, Troy Gerding, James Gilk, Steve Gilk, Scott Ingalsbe, Mike Klein, Joe Lingl, Leo Louis, Ryan Louis, Casey Meagher, Jon Millner, Jared Morris, Scott Morris, Bobby O'Fallon, Mike Putzke, Randy Schaefer, Russ Schaefer, David Scheierl, Jon Scheierl, Jeff Skrypek, Gary Wagner, Dan Welter, Larry Wendroth, Loren Wendroth, Lyle Wendroth, Tyler Wendroth, and Eric Werlinger.
---
Contact the author at editor@paynesvillepress.com • Return to News Menu
Home | Marketplace | Community
---