Spanier starts tuxedo business
This article submitted by Linda Stelling on 12/1/99.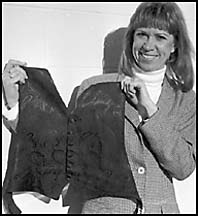 Sue Spanier (pictured at right), Paynesville, has started a new business, Tuxedo Connection. "There is nobody in the area that rents tuxedos. I thought it would be nice for Paynesville to have such a place," Spanier said.

Spanier started the business this fall. Customers can go to her home on 303rd Avenue, rural Paynesville, and page through a catalog which features about 50 different tuxedo styles. There are also eight different vest styles to choose from and four different styles of shoes. Customers have a full line of accessories (top hats, canes, and gloves) to select from.

"I started the business in Albany out of my parent's flower shop. They have since closed up shop and I decided to move the business to my home," Spanier said.

Spanier said she liked the idea of being able to have people try on the tuxedo or vest. "There are so many things that can be wrong," she added.

"By having a business in the Paynesville area, it will be easy for the boys to come out to my home after school (or men after work) to try on their tuxedos," Spanier said. She advised it is a good idea to bring along the girl's dress color to match their vest colors.

Her goal is to make sure the tux fits their very best so themen look their best. Spanier said her home is nine miles north of Paynesville and it is easy to find. Just call (320-548-3253) for directions.
---