Last month, Esther Morgan witnessed her son being inducted into the Nashville Songwriters Hall of Fame. In early November, Esther traveled to Nashville to see her son, Dennis Morgan, join the Hall of Fame ranks of Gene Autry, Johnny Cash, Bob Dylan, Woody Guthrie, Waylon Jennings, Loretta Lynn, Willie Nelson, Dolly Parton, Hank Williams Sr., and 135 others.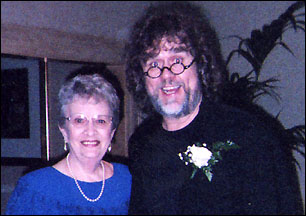 Esther, who has lived in Paynes-ville at 700 Stearns Place for 15 years, traveled to Nashville with her daughter Julie to attend the induction ceremony on Sunday, Nov. 7.
While Esther knew beforehand that Dennis would be inducted this year - he was nominated for the fourth straight year - her son did not know. "This was a surprise. You know who's nominated, but you don't know who's winning," said Esther.
Esther Morgan traveled to Nashville in November to see her son Dennis inducted into the songwriters' Hall of Fame on Sunday, Nov. 7.
To keep the secret, Esther and Julie had to make their trip to Nashville seem just like another weekend visit. "Of course, when they started to list his accomplishments and his songs (at the banquet), he knew," said Esther. Other inductees to the Nashville Songwriters Hall of Fame this year were Guy Clark, Freddie Hart, and Billy Joe Shaver.
Each songwriter is honored at the induction banquet with a musical introduction. Lyle Lovett played for Guy Clark this year, and Kris Kristopherson played "Good Christian Soldier" to honor Shaver.
Jessica Andrew, Marcel Slater, and James Slater started Morgan's tribute with rendition of his "I Knew You Were Waiting (For Me)," a 1987 Grammy-winning hit for Aretha Franklin and George Michael. Then Keith Urban sang "Roll on Mississippi," a country hit for Charley Pride, and "Smoky Mountain Rain," a #1 hit for Ronnie Milsap in 1980.
Milsap stood and started singing during the second verse, earning a standing ovation. Milsap played piano and sang with Urban on "I Wouldn't Have Missed It for the World," another chart-topper for Milsap in 1981.
While her son was surprised, and brought to tears by his induction, Esther was so proud, she said. "Oh, yeah, he's received a lot of awards, but this is the big one," said Esther, who added that she is proud of all three of her children.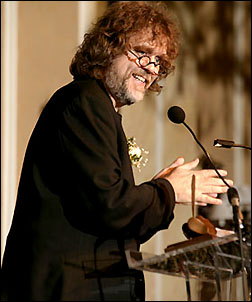 Having visited Dennis and his wife in Nashville numerous times in the past three decades, Esther admits gawking at first, but now she knows that these music stars are "just people." She did, however, have Kristopherson autograph her Hall of Fame program.
Dennis Morgan is the son of Esther and the late Lester Morgan of Paynesville.
Dennis has earned eight Grammy nominations and penned over 30 #1 hits, including "Let Me Let Go" by Faith Hill and Vince Gill; "Sleeping Single in a Double Bed" and "I Was Country When Country Wasn't Cool" by Barbara Mandrell; and "Missing You" by Charley Pride. Other artists to record his songs include: Chet Atkins, Garth Brooks, Ray Charles, Neil Diamond, Fleetwood Mac, Amy Grant, George Jones, Reba McEntire, the Oak Ridge Boys, Kenny Rogers, David Lee Roth, Rod Stewart, George Strait, and Randy Travis.
Dennis has "always loved music," said Esther. Growing up on a farm near Tracy, Minn., Dennis won a Christmas drawing at a hardware store in Marshall, winning a live monkey in a cage. But when they went to the store it was too cold to take the monkey home, and Esther didn't really want a pet monkey anyway. The store offered a $50 credit instead of the monkey, and Dennis agreed, using the money to buy his first guitar.
Dennis took a few guitar lessons but learned mostly on his own, by practicing constantly, telling his parents to save the money instead of spending it on lessons. Dennis practiced "every bit he could," according to Esther. "He just had it," she explained. "He loved his music." Dennis neither sang in the choir in high school nor played in the school band. But by his teens, he was playing in his own band. Esther remembers driving Dennis's five-man band to their first paying gigs, since none of the teens in the band were old enough to drive.
By his teens, Dennis was already writing his own songs. "He always had paper and pen, and he could jot things down and put it together and make it sound good," said Esther.
Esther claims no musical talent. But Dennis used to sing and make up lines with his father Lester, now deceased, and with his brother Bruce, who now owns a lake home on Lake Koronis. Lester's dad had played the violin, Esther noted.
Dennis practiced guitar and wrote songs as much as he could while attending school and helping on the farm. He used to sing to the cows while milking and always got the most milk from the cows, according to Esther.
Dennis started to travel and tour at age 16, leaving Tracy with "a lot of prayers" from Esther. He toured for a half dozen years before settling in Nashville, where he played in bars and wrote music, including commercial jingles.
Dennis has also written songs for television (including for Baywatch, General Hospital, Jag, Jeopardy, The Oprah Winfrey Show, Regis and Kathie Lee, Star Search, and The Tonight Show with Jay Leno) and for movies (including Navy Seals, My Stepmother Is an Alien, and Saturday Night Special).
Perseverance, not instant success, led to Dennis' music career, said Esther. "He had so much determination," she explained. "He just had the determination and the will, and he made it," she added.
In the late 1970s, Dennis started writing for Charley Pride and joined a publishing company. With Kye Fleming, a songwriter for Pride, Dennis co-wrote "Sleeping Single in a Double Bed," the first #1 hit for Barbara Mandrell in 1980. Morgan's song, "I Was Country, When Country Wasn't Cool," was another #1 hit for Mandrell in 1981 and was nominated for Song of the Year by the Country Music Association.
When "Sleeping Single in a Double Bed" hit #1, Esther remembered her and Lester thinking that Dennis had finally found success. And he had, she added.
---
Contact the author at editor@paynesvillepress.com • Return to News Menu
Home | Marketplace | Community
---