For Thanksgiving this year, Gary and Pug Swenson had something to be especially thankful forÉtheir home in Barefoot Bay, Fla., which barely survived Hurricanes Frances and Jeanne in September.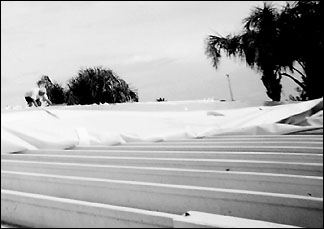 The Swensons, who lived on Lake Koronis for ten years before settling full-time in Florida the past couple years, are also thankful that they purchased a summer home on Lake Koronis again this year, as it proved very handy when four hurricanes hit Florida this year.
Hurricane Frances, in September, lifted a porch over Gary and Pug Swenson's Barefoot Bay home, ripping their rubber-membrane roof.
The Swensons are back in Barefoot Bay for the winter, rebuilding their nearly-demolished Florida home, but they enjoyed the safety of Minnesota in September when Frances and Jeanne hit the Atlantic coast of Florida.
"Now we really feel fortunate," said Gary this fall, before leaving for Florida again, of having two homes. "Our friends down there had to evacuate to Tampa."
No hurricane had hit Barefoot Bay in 100 years, or at least that was what everybody believed in the retirement community, said Gary. The prevailing attitude was that hurricanes were somebody else's problem.
That attitude lasted until Hurricane Frances came ashore maybe 50 miles south of Barefoot Bay, which sits on the Atlantic Ocean about midway between Daytona Beach (to the north) and West Palm Beach (to the south).
Half of the residences in Barefoot Bay are manufactured homes, said Gary, which locals call "tin cans."
After Frances hit, neighbors called the Swensons to tell them their 2,000-sq. ft. triple-wide had been damaged. So Pug flew to Orlando, which is 60 miles northwest of Barefoot Bay, loaded up groceries, bottled water, and gasoline and drove to their home. On the way, many stoplights were out of order due to the lack of electricity, merely operating as four-way stops.
When Pug got to Barefoot Bay, one of the first things she noticed was that their huge porch, where they had hosted parties with over 100 people, was gone. "The people watching (the house) didn't know where it had gone," said Pug.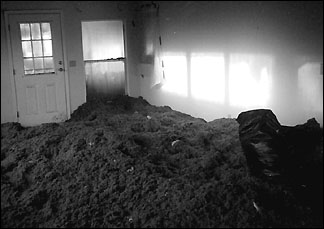 They finally found the porch next to a neighbor's house. "Our neighbors don't have a porch," explained Pug. "Ours had flown over the triple-wide, ripped off part of the roof, and landed on their property. So the strength (of a hurricane) is real."
Moldy insulation ripped from the walls inside the Swenson's home.
Their rubber roof, meant to be invincible, wasn't. It was lying over just a portion of the house. Luckily, the shingles of the original roof were still over the living room and in spots over the rest of the house. At first, Pug used coolers, buckets, anything that would catch water, to try and keep the house dry. And she tried mopping the water that had collected inside the house.
Getting help was difficult because everyone had needs. And so many people in the senior-dominated community needed help. The Swensons had a friend who used to be in construction, and with his help Pug and neighbors tried to pull the rubber-membrane back over the house and nailed it in place. "Everyone who saw him (on the roof) wanted his help," said Pug, "because everyone was desperate for help."
In addition, they paid $450 for an Illinois company to put a tarp over the house. "And now it's gone," said Pug, blown off during Hurricane Jeanne.
Even before Pug left for Florida, the Swensons had tried to arrange help. "We were trying to get a crew. We knew there were more hurricanes out there," said Gary. They called their roofer in New Hampshire and their carpenter in Tennessee. By calling early, they got to the top of the to-do list for their roofer, who had over 600 calls on his cell phone after Hurricane Frances!
The damage of a hurricane is hard to explain and hard to imagine, said Pug. It nearly destroyed their house, but left others on the same block undamaged. It nearly took off their roof, but the furniture inside was fine and rooms like the kitchen and living were fine.
Frances came from east. Their porch used to sit on east side of their house, and it was blown over the house. The car porch, a flimsy structure on the west side of the house on the other hand, was fine!
All the water that leaked inside due to the missing roof, though, led to mold problems. "Coming from Minnesota, we didn't realize the problems with mold." A friend told them they should get everything of value out of the house, so they shipped all their furniture to their house in Paynesville, once again thankful for their return to Lake Koronis. "I think that's the fastest I've packed in my life," Pug.
With the help of friends, with whom Pug was staying, they pulled down the water-logged insulation and sheetrock, stripped the house to its studs, bagged the insulation, and put the debris next to the street.
Pug wanted to stay longer in Florida, to get the roof done, but she flew home a couple days before Hurricane Jeanne hit Florida in late September. When she left, "I really thought that we had done our best but that house was going to be gone," she said.
The house was already weak from Frances, but it managed to withstand Jeanne. It seems like houses that were missed by Frances got hit by Jeanne. Since their house had already been clobbered by Frances, the only new damage from Jeanne were broken windows, from all the flying debris, since so much garbage had been left by the streets.
"Without Pug, spearheading that effort, that house would be toast," said Gary.
The Swensons debated whether to rebuild or not but decided that their bonds to their retirement community were too strong to cut. "You become like family," said Pug. "So when this happens, the bonds just stays there. The friendships run very deep."
New neighbors, who the Swensons don't really know, offered them the use of their home, which was undamaged, while the Swensons were rebuilding this fall.
With Barefoot Bay having survived two hurricanes this year, are they now safe for another 100 years, wondered Gary.
Xcel employee joins work crews in Florida


Jim O'Fallon, the supervisor for Xcel Energy in Paynesville, spent two weeks repairing hurricane damage in Florida and Alabama in September, including a week near Barefoot Bay.
Hundreds of electrical workers from across the country - and from as far away as Canada - drove to Florida to help with the rebuilding efforts. Jim O'Fallon took this picture of a staging area in Florida during his two-week trip to help restore electricity in September.
O'Fallon, a 1976 PHS graduate who has worked for the local electric company for 27 years, left Paynesville on Saturday, Sept. 11, and returned two weeks later. Thousands of electrical workers went to Florida and the Gulf Coast to help restore power, including Randy (a 1984 PHS grad) and Rick (a 1989 grad) Jude.
Florida Power Company employees had worked 41 straight 16-hour days when O'Fallon arrived to help, he said.
While a hurricane causes problems similar to storms in Minnesota - downed power poles, falling trees and branches breaking lines, etc. - the extent of damage was much greater, said O'Fallon. Normally in Minnesota, the damage of a storm is in a relatively narrow area, he noted, while the hurricanes did widespread damage.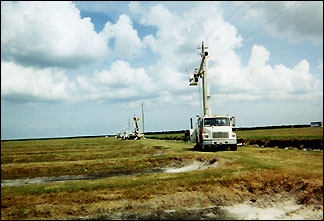 In Florida, Jim stayed in West Palm Beach and a took 80-mile bus trip each day to the area near Barefoot Bay to work.
Putting up downed powerlines in rural Florida.
Much of his work was done inland, in rural areas with the ultimate goal of restoring electricity to citrus plantations, which needed powers to run pumps and other equipment.
He then spent another week working around Mobile, Ala.
"They can keep the spiders and snakes and alligators," O'Fallon said of working in the south. "We'll keep the snow."
---
Contact the author at editor@paynesvillepress.com • Return to News Menu
Home | Marketplace | Community
---