Author Donna Terres returned to St. Martin last weekend for a book signing for her new novel, "Take Care." Terres lived in St. Martin from 1962-1965, after marrying St. Martin native Lee Terres.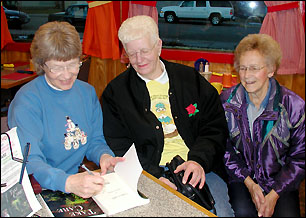 More than a dozen people attended the book signing at Dizzy Dishes to purchase copies of Terres's new novel and have them autographed by the author.
Terres, who lives in Rice with her husband, held her book signing in St. Martin because she thought it would draw a good crowd of friends and family members. Since this was her first book signing, being among friends and family was important to her. "I'm still new at this," she explained.
Author Donna Terres signs a copy of new new novel, "Take Care," for her friends Alma Lieser (center) and Mary Ann Lauer at a book signing in St. Martin on Saturday.
"Take Care" is the third book that Terres has written but the first to be published. It's a suspense novel that involves two sisters who, through a coincidence, witness a crime that thrusts them into their past lives as abused children.
Always an avid reader, Terres began writing 18 years ago while recovering from surgery. Lee suggested that she should finally put her words on paper after talking about it for years.
With little formal training besides a few classes and writing seminars, Terres' stories revolve around her own life. They are heavily influenced by her experiences as a truck driver, she said. She uses rest areas as scary places because they are places that scare her personally. Because truckers eat out a lot, they expect waitresses to be perfect, though they aren't, she said. This is also portrayed in "Take Care."
When Terres begins writing, she doesn't have a plan. She just follows where the story takes her, she said. As her characters develop, she becomes very close to them, and they become very real to her, she added. "I feel bad when I make bad things happen to them," she said. Her real life is not very exciting compared to her books, she said. She likes reading (suspense and mystery novels, of course), and she keeps pretty busy with the activities and birthdays of her 18 grandchildren. Yet she has found time to start her next project: writing her next book "Deceived."
Eventually, she would like to re-write her first two books and possibly have them published, too.
"Take Care" is being published on demand and is available online at publishamerica.com, amazon.com, and barnesandnoble.com. Terres actually thinks that publicizing her book is a bigger task than writing it. In addition to the book signing in St. Martin, Terres will also have a signing at the SCSU bookstore on Friday, Dec. 17, and another at Media Play in St. Cloud.
---
Contact the author at editor@paynesvillepress.com • Return to News Menu
Home | Marketplace | Community
---