Seniors Jennifer Moburg and Karla Schaefer were given Lions Service Awards this month for their community service and volunteer efforts.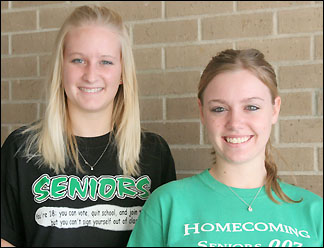 Each year, the Paynesville Lions Club recognizes seniors at Paynesville Area High School for their volunteer work, both at school and in the community. Moburg and Schaefer were selected for the month of November.
Seniors Karla Schaefer and Jennifer Moburg were recognized for their community service and volunteer efforts by the Paynesville Lions Club with its Youth Service Award for November.
Both Moburg and Schaefer expressed shock and honor for getting the award. "I know a lot of people in my class that could have won," said Moburg. "I'm really honored to get one of the eight awards."
Volunteering, said Schaefer, "brings a feeling that I can't describe. Just knowing you're making a difference in another person's life is an honor by itself. I like when people help me, so I'm always willing to return the favor."
Volunteering, added Moburg, "gives me a chance to give something back to the community."
Both expressed thanks to the Lions for sponsoring the award.
Moburg, the daughter of Janell and Steve Moburg, is a peer helper in the elementary school. She also sings in the PAHS Mixed and Pops choirs, serves as basketball manager, helps with the yearbook, and belongs to the Letter Club.
At Paynesville Lutheran Church, she provides childcare, teaches Sunday School, helped at Vacation Bible School, and volunteered at the Marie Sandvick Center in Minneapolis and at Camp House. Her work at the center is her favorite volunteering memory.
She also sings in a youth worship band, "On the Horizon," and volunteers at the Koronis Manor.
Schaefer, the daughter of Cindy and Tim Schaefer, has been a peer tutor for two years in the middle school and one year in the high school. This is her favorite service memory, as there is never a dull moment, she said.
She also helps the guidance counselor, serves as a peer helper, and helped organize the recent blooddrive as a member of the student council. She also belongs to the band, is a cheerleader, helps with the yearbook and the school newspaper, and belongs to the National Honor Society.
At St. Margaret's Catholic Church in Lake Henry, she has taught religion for two years, been a mass server, and has helped with breakfasts. Seniors Tanis Beireis and Peder Thompson were honored with Lions Service Awards for October. Four more seniors will be honored by the Lions Club in February and March.
---
Contact the author at editor@paynesvillepress.com • Return to News Menu
Home | Marketplace | Community
---