"It's all about the kids."

These are Darrel Carstens' parting words when the topic is his retirement after 34 years of coaching Paynesville's cross country team, including 33 years as head coach. He agreed to the interview because "it would be good for the program," but his focus remains on his athletes.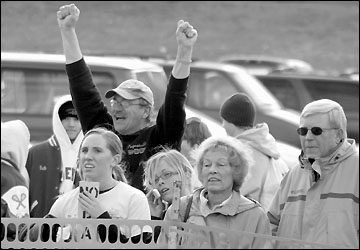 "I guess the one way to sum it up is Darrel knows as much as any coach about training and techniques, but the one thing that made him so successful is the way he treated the kids," said assistant coach Todd Spanier, who was an All State runner under Carstens in 1989.
Coach Darrel Carstens - shown celebrating sophomore Linda Keller's third-place finish at the state cross country meet in early November - is retiring after 34 years as the PAHS cross country coach, including 33 years as head coach. He guided nine teams to state, including a state title in 2000, and coached 24 All State runners.
The secret to Carstens' success, agreed his longtime assistant coach Rick Houske, is "caring about the kids. When you care about the kids like Darrel does...you make it fun."
Every runner can try to achieve their goals, and every runner should feel like an important part of the team, according to Carstens' coaching philosophy. "If you have 50 athletes, the 50th is as important as the first. Once you forget that, you lose runners," said Carstens, who made it a goal to say something to every kid everyday at practice.
Carstens, who is set to retire from teaching German in the Paynesville school system next spring after 34 years, coached his final cross country season this fall. He served one year as an assistant coach and then was the head coach for 33 years, guiding Bulldog teams to state nine times, including a state title in 2000, and coaching 24 All State runners.
A couple of Bulldog runners ran cross country in 1959, including All State runner Dave Owen, and a full-fledged cross country program was started in 1969, producing another All State runner in Dean Hillbrand in 1971 before Carstens took the reigns in 1975. A girls' cross country team was added in 1979.
Carstens played football, basketball (his first love), and ran track for Perham High School before running cross country and track at Concordia College in Moorhead, serving as cross country captain his senior year.
"How do you make running seven or eight miles something enjoyable?" asked Houske.
"The only way you can do that hard work is to have fun," said Houske. "If all you did was run and practice, you'd have your die hards, but that's all you'd have."
Carstens, by being relentlessly positive, made cross country a good place to be for kids by making everyone feel good about what they could accomplish, said Houske. "The nice thing about it is he took 7-12 boys and girls and put them together and made them friends," said Houske.
Building a successful program takes lots of things - good assistant coaches, supportive parents, good kids, strong work ethic - but Carstens lists mental belief at the top. Any successful athletic program, be it Rocori basketball or Paynesville wrestling, cannot rely on overwhelming talent year in and year out, he explained. "You can't tell me that they've had the best athletes that long," said Carstens about high school sports dynasties. "Therefore, it's mental belief."
Take his 2000 state championship team as an example.
The Bulldogs had a strong team in 1999 and had set a goal to reach the state tournament but had taken fourth in Section 6A behind four-time state champion Staples-Motley, Montevideo, and Crosby-Ironton.
During the offseason, Carstens heard a piece of advice that he never forgot: of the 160 Class A cross country teams in the state, probably only five really believe that they can win a state title in any given year.
"If you don't believe that, the odds of it happening are zero," he explained, because the teams that believe they can win will outwork those who don't believe.
The Bulldogs in 2000 were not the most talented team in the state, but they ended up being the best because their goal was to beat Staples-Motley and they believed they could do it. "They just talked themselves into it," said Carstens.
"They believed they were the best."
The 2000 team, added Houske, had been told by coach Jim Ochs as seventh graders that they would win a state title. "It was ingrained in them. They knew it, and they worked for it. They pushed each other," he said.
Carstens and Houske like to list former athletes who made themselves into fine runners by sheer hard work and will power.
The ultimate goal for his runners is to "achieve what they feel is their best. I think that matters," said Carstens, who admits to being competitive, though his program has focused on the goals of all the runners, not just the top ones.
That emphasis on the entire team has certainly helped the Bulldogs' depth, a key element in cross country. "You're only as good as your fifth runner, and sometimes your sixth or seventh," explained Houske.
A cross country team, he added, can usually lose more points with their fifth runner than they can gain with their first runner.
The PAHS cross country program was boosted by the 1977 squad that was the second team in school history to qualify for a state tournament, following the 1977 wrestling team. The good attitudes of that 1977 cross country team also did much to promote the sport, said Carstens.
In the late 1970s and early 1980s, the cross country program enjoyed considerable success, but then Carstens said he drifted away from hard, interval training into other methods promoted at clinics.
In the late 1980s, he reverted to his core belief in hard training, no gimmicks, and this combined with another group of good athletes to produce five state tournament teams in the early 1990s, including the first state trip by the girls in 1991 and a fourth-place finish by the boys in 1994.
"Practices have to be fun, but they have to be hard," said Carstens. "When you do that, you get the kids to believe."
Since the 1990s, the Bulldogs have remained a section power in cross country, earning that state title in 2000, having the girls finish as state runners-up in 2001 (the highest state finish by a girls' team in school history), and seeing Jen Hess win two individual state titles.
This year, Carstens' goal for the girls' team was to win the section title and make a team trip to state, but due to injuries, the team "never got it all together" and finished a close third at sections. A highlight for Carstens at his last cross country meet as coach was seeing sophomore Linda Keller run a stellar race at state and finish third individually, the third highest finish by Bulldog ever behind Hess's two titles and boys standout Joel Fenske finish as the Class A runner-up in 1993.
But, win or lose, Carstens always cheered and supported his runners.
"The one thing that really separates Darrel is his positive attitude," explained Spanier. "Not once since I've been coaching with him have I heard him get upset with kids or get down on them. Everything is positive. I think this also contributed to his longevity as a coach. He realizes these are high school kids, and they are going to have days they don't perform well or don't give 100 percent, and all you can do is be supportive of them."
---
Contact the author at editor@paynesvillepress.com • Return to News Menu
Home | Marketplace | Community
---