More than 40 PAHS choir students traveled to New York City for four days of sightseeing and touring this month. The PAHS Mixed Choir and PAHS Treble Choir left for New York City on Tuesday, Nov. 14, and returned on Sunday, Nov. 19.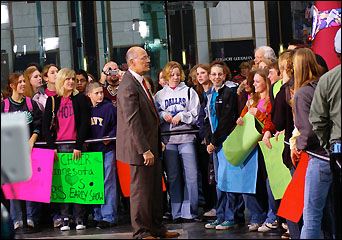 During four days in the Big Apple, the choir students walked in Central Park, toured Radio City Music Hall, Carnegie Hall, the Metropolitan Museum of Art, and St. Patrick's Cathedral, visited Times Square, Ground Zero, Yankee Stadium, and the Empire State Building, viewed the Statue of Liberty during a harbor cruise, sang in the plaza outside Lincoln Center, saw a performance of "Phantom of the Opera," and were shown on national TV while visiting the CBS Early Show.
Paynesville choir students visited the CBS Early Show on Thursday, Nov. 16, during their visit to New York City. They were shown in the background on national TV, as Harry Smith talks on camera, six times during the show.
Here are excerpts from comments by the choir students, recalling what they liked in New York City, their favorite part of the trip, or what they learned on the trip.
"I liked different cultures all mixed into one big city. To see a whole different lifestyle of a new city. I liked that it was busy there. I liked everything that we did there."
-sophomore Jared Eickhoff
"My two favorite places we went was Carnegie Hall and Radio City Music Hall. They were both so beautiful. When we sang 'God Bless America' in Carnegie Hall, it echoed and made us sound like a huge choir."
-junior Meghan Doll
"I liked singing at the Lincoln Center and at Carnegie Hall. I also thought all of the buildings were fun to visit. Going to see 'Phantom of the Opera' was also fun."
-ninth grader David Ruprecht
"I learned to walk fast, keep up with John (tour guide), get on the bus fast, and be accommodating to people and schedule changes. I also learned that there is a really big world 'out there' outside of Paynesville. I knew that before, but I really realized it on this trip."
-sophomore Karla Lietzman
"I liked just about everything. The city is amazing. My favorite thing that I got to do was getting Jeff Foxworthy's autograph, or going on the cruise in New York harbor."
-sophomore Russell O'Fallon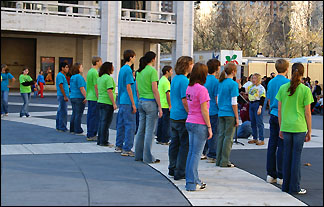 "I loved the whole trip. I liked the people we went with all the sights we saw. Seeing all those huge buildings was sweet."
-sophomore Sam Rittenhouse
The PAHS choirs, rincluding the PAHS Pops Choir, shown - performed a choral concert outdoors in the plaza at Lincoln Center during their trip.
"The favorite thing of things that I did was going to 'Phantom of the Opera.' They had really good voices and acting, as well as the awesome special effects. I loved going on the cruise because it was so much fun. We had great food, and then we definitely danced the night away. It was the best time of my life for sure."
-ninth grader Matt Everson
"I have never traveled before. So this whole experience has been so great, it's hard to put into words. I really liked being in New York, because it was so different from Paynesville. We got to experience a whole different lifestyle and see it firsthand."
-senior Mary Keller
"I really enjoyed bringing the group of both students and chaperones to New York. They were great! Their flexibility, respect, and cooperation made everything go so smoothly. It's hard to pick out a highlight!" "I enjoyed seeing everyone having such a good time together and bonding, especially on the harbor cruise. I learned that I have a great bunch of students, which I already knew of course, but it was reiterated for me."
-choir director Cheryl Bungum
"I enjoyed the dinner cruise to see the Statue of Liberty."
-senior Peder Thompson
"I liked being in NYC because it was so different from Paynesville. Those kind of skyscrapers are only a myth in our hometown. It was interesting to see how different the people were, and yet they were nice and friendly people."
-sophomore Ezra Thompson
"That's a very hard question because I liked everything about New York! I liked seeing all the sites, shopping, people watching, riding the subway, the harbor cruise, and everything else we did! It was an amazing experience and I would live to go again."
-sophomore Heather Rondeau
"Maybe the best thing was Times Squares. The lights made it seem like it was light out."
-ninth grader Sam Bungum
"I really loved the Radio City Music Hall tour because during the tour we went into one room where we were suppose to listen to the way sound moved in that room. I got to sing my solo from the concert in that room and later on the tour guide told me I had a beautiful voice."
-senior Sam Chevalier
"The whole trip was simply awesome; I loved it all."
-ninth grader Cody Lieser
"My favorite part of the trip was the boat ride. I danced all day and so did everyone else. I also really liked singing in front of the fountain. It was fun to, so the people enjoyed our singing. I also enjoyed singing for the senior citizens. I liked watching the older people dance and trying to teach us how to do the cha-cha."
-junior Gilbert Lopez
"I really liked seeing all the amazingly tall buildings. It's not something you see around here very often."
-senior Ashley Atkinson
"I wish I could do it again! I'll have to go back myself. There was so much to see."
-senior Kaila Hartmann
"New York is very fast paced. You really have to pay attention at all times. Also I learned that there are big differences from New York and Minnesota! You have to have a lot of patience with a lot of people around! And be a lot more fast paced."
-senior Cassandra Olmscheid
"I didn't realize before how relaxed, laid-back, and friendly people around here really are. Everyone in New York seemed to be on their own little mission, sort of unconcerned with everyone else around them."
-junior Natasha Fangmeier
"(My favorite part was) going to the Magestic Theatre to see 'Phantom of the Opera' on Broadway."
-senior John Spanier
"Even though our tour guide didn't know this but supposedly you are supposed to stop on red. There are a lot of cool things in NYC."
-ninth grader Hayden Spaeth
"I learned that New York was much more crowded than Minnesota. Cars were always honking at you. Also people were trying to budge you on the sidewalk."
-junior Amber Gray
"I really liked everything from seeing all the lights from the buildings to going up 87 feet in the Empire State Building."
-senior Danielle Binsfeld
"I really liked being on the CBS Early Show. Another thing was the way the city looked all lit up at night; it was so beautiful. Times Square was awesome! Pictures can't even begin to describe the way it looked."
-senior Emily Lindeman
"I loved everything. It is an amazing city. There is such a diverse culture there. I had never been to New York before so it was an amazing new experience for me. I had so much fun and I learned a lot."
-senior Jen Moburg
"New York is an incredible city. It helped me appreciate Paynesville with all the kind people and 'quietness.' I would like to go to NYC again."
-junior Katrina Daby
"I really enjoyed all of the sites we were able to see; Carnegie Hall was breath taking."
-senior Stephanie Johnson
"I liked all the really tall buildings, not even necessarily skyscrapers. Many buildings had very beautiful detailed design and architecture."
-junior Alyssa Tish
"I loved sightseeing and having a tour guide. Having John Olsen helped us get to places faster and be able to travel to more places. I absolutely loved seeing the different fashions walking down the 5th Avenue stretch."
-junior Natalie Leadem
"I loved going to China Town. It was so different. Everything was Chinese. Things were written in Chinese, the people were Chinese. It was like we were in New York and in two minutes we go to China. The other thing I thought was great was the cruise. It was windy but the lights were beautiful and going by the Statue of Liberty was the highlight of the night."
-junior Cassi Lund
"(I learned) how to dodge NYC rush-hour traffic and how to sing out more when singing in front of the fountain."
-sophomore Callie Bennett
"Oh my! The trip was so much fun from start to finish. The 'Phantom of the Opera' was over the top, Times Square was awesome, China Town was a new experience with all the bartering, seeing the Statue of Liberty was really (neat), and just being in New York was a really cool experience."
-sophomore Laura Binsfeld
"To walk really fast, keep up, and be able to walk through busy traffic."
-ninth grader Jessica Briggs
"I liked everything in New York. But my favorite was the cruise on the Hudson. Seeing the Statue of Liberty. I also really liked the Empire State Building."
-sophomore Alexa McCorquodale
"I loved going to see Carnegie Hall. The Broadway show was absolutely amazing! The special effects and scene changes absolutely blew me away! The dinner cruise was really fun too. I liked how it was just a completely different lifestyle than Paynesville."
-sophomore Kaitlin Burlingame
"I learned how to make everyone in the city of New York think you are a tourist."
-sophomore Brianna Fischbach
"I had a lot of fun! Can't wait to go to Orlando. Thanks tons for getting the trip ready and so organized."
-sophomore Ariel Jones
"(My favorite part of the trip was) seeing the Empire State Building."
-ninth grader Kayte Thompson
---
Contact the author at editor@paynesvillepress.com • Return to News Menu
Home | Marketplace | Community
---