Koronis Kurlette closes its doors
This article submitted by Linda Stelling on 11/29/00.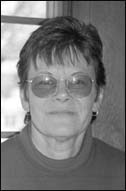 Koronis Kurlette closed its doors after 31 years of business in the Paynesville community. Owner Diane Quarfot (pictured at left) retired in October and moved to Hawick.

Koronis Kurlette was started in 1969 by Pat Sorenson. Diane Quarfot joined Sorenson as a beautician at the shop in 1974.

In 1975 Ileen Anderson purchased the shop and Quarfot continued working with her in the winter months. At that time, the shop was located in the H.F. Paul building on James Street. It has also been located on the corner where Burr's Barber Shop is now and at one time in the building where the public library is today.

Quarfot purchased Koronis Kurlette in 1984 from Anderson. She built an addition onto the back of her home in 1989, and moved the shop to Mill Street. "We were a small family shop. I would pick up people and bring them to the shop to have their hair done, then give them a ride home," Quarfot said.

The business evolved into a shop specializing in styles for senior citizens. "As other shops changed their styles with the times, we didn't change," she said. Quarfot kept the rollers and never went to the curling irons and blow combs. While older ladies want to look nice, they don't go for the wild styles, Quarfot added.

Many of Quarfot's older customers are unable to do their own hair due to physical limitations. "It's a necessity for a lot of women to have their hair done by someone else," she added.

Quarfot started thinking about retirement in the spring and set June as a quitting date, but found it hard to refuse her clients and kept doing one appointment after another until October.
---