Karen Koshiol Breuer, the daughter of Milt and Rosemary Koshiol, graduated from Paynesville High School in 1973 and earned a teaching degree from Bemidji State University.
She taught elementary school in Farmington, Minn., for 11 years before marrying Bryan Breuer and moving to Phoenix, Ariz., with him. She taught fourth grade in Phoenix for another 11 years before moving to Saudi Arabia in August 2000 with their son, Nicholas, 9.
They still have a house in Arizona, where they intend to return when they leave Saudi Arabia in June 2003.
By e-mail, Karen shared with the Press aspects of their life in the Middle East and the impact of the Sept. 11 terrorist attacks and the U.S. war with Afghanistan. The first half of this interview ran last week.
What have been some of the challenges of being an American living in the Arab world and in the heart of the Islamic religion?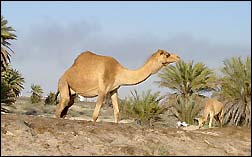 Challenges include dealing with adjusting to the Arab Islamic customs and laws. While inside our compound, we dress as we would back home, and live a normal life, but outside the walls, we must respect their culture. Alcohol is prohibited. There are no movies or sporting events for westerners to attend. Women cannot drive, which is a major adjustment. Saudi women have basically no rights.
The Breuers took this picture of camels during a trip into the desert near their home in Dammam, Saudi Arabia.
Before moving here, I attended an all-day orientation on the Saudi culture and learned that I'm not allowed to talk to a Saudi man, unless it deals with business, or to shake his hand or even to look him in the eye. I must wear a long black "abaya" (a robe-looking cover-up) in public. The veil or scarf is not mandatory. Women not only are forbidden to drive but also cannot ride a bicycle, cash a check without a man's escort, sit in the men's section of a restaurant or clinic, work outside an all-girl's school or hospital, and must be accompanied by a male relative while in a car or while doing business.
A woman cannot ride in the front seat of a car if the driver is not her husband. Men are not allowed to wear shorts. These are only a few of the civil rights lost as we live in this Arab Muslim nation.
These inconveniences have been a big adjustment, stifling at times, and have created a sense of oppression at times, but mostly a feeling of patriotism even before Sept. 11. The contrast in societies (democracy versus a military monarchy) has made us more proud to be from America than ever before. I realize how we take America for granted and all our freedoms and see now, firsthand, what it feels like to have no rights. We women could be arrested and deported during Ramadan if we aren't dressed appropriately or eat or drink in public during the day of fasting.
Western women must depend on buses our compound provides or outside taxis during the day to get from place to place. We are always at the mercy of schedules. Always watching the time so we don't miss a bus or get caught in a store during prayer time. We may be kicked out if that happens or locked in until prayer time is over.
Another adjustment is getting used to listening to prayer time five times a day. Prayers are broadcast over loudspeakers all over the city, and we need to coordinate our day around it. The first one begins at 4:30 a.m. and they continue throughout the day. All shops and restaurants close down during prayer time. They are open only from 9-11:30 a.m. and close everyday from 11:30-4 p.m., so it is a scramble to plan a morning of grocery shopping and errands and also to coordinate transportation. It's an inconvenience that we must live with.
And the driving habits here are atrocious! It's like the white lines don't exist at all. The only example I will tell you is the one in which there are three lanes at a stoplight: a left-turn lane, a right-turn lane, and the continue-forward lane. Picture this: five cars abreast, ALL honking their horns when the light turns green and ALL making a left turn!
Saudi Arabia is considered one of the closest U.S. allies in the Middle East. What have you observed about the political situation in the country?
The political situation seems to be full of hidden agendas. Seemingly cordial most of the time and contradictory when it befits the government. There is one thing that seems to be evident to us and that is the fact that the Saudi government's public statements do not always reflect their real activities or intentions. We've seen these contradictory behavior and actions versus statements reflected in the newspapers, as well as in conversations with Saudis that we know.
We read many letters to the editor from the average Saudi person, which are critical of America as well as supportive of America. But the vast majority believe the United States is very one-sided in dealing with the Middle East crisis and we are the "enemy," along with Israel.
We're also learning more about the tribal distinctions in Saudi society, as well as the royalty and the common sector. The government is trying to get Saudi people back into the work force instead of using so many people from the Third World. For instance, the Otaibi's wouldn't be seen doing certain types of work. Same with the Al-Ghamdis. There are dozens of tribal regions and all Saudis can be traced to one or another tribe by their name.
However, there are stratas of the economy that are completely avoided by the Saudis. This tribalization results in much of the stratification of the job sector. Gas attendants, road workers, anything dealing with "serving" others, sanitation workers, and engineering positions are all Third World employees and are extremely low paid. There is something like 12 million Saudis and 10 million foreigners living in Saudi Arabia, so that gives you a good idea that large segments of the economy are ignored by the Saudis and filled by foreigners. The government is trying to change this by Saudi-izing many jobs.
What was the mood in Saudi Arabia following the attacks?
The Saudi newspaper condemned the attacks immediately but we also read letters to the editor that commented that America had it coming. This was difficult to read during such a tragic time. Shortly after the hijackers names were released, the Saudi government issued a statement saying these hijackers were no longer Saudi citizens and denied any link to them.
We have heard from friends who speak Arabic that most sermons during prayer time are censored by the government and are not allowed to say anything negative about the United States; however, not all are censored and some of the sermons are very anti-American.
How has this conflict affected your safety concerns and lives as Americans living abroad?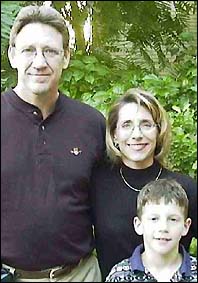 It has affected us greatly. We are very careful to maintain a low profile, always are cautious, and basically stay on the compound. Shortly after Sept. 11, a bomb went off in a popular downtown shopping area in Khobar, killing an American. We were advised to stay on our compounds by the U.S. Consulate and to keep a low profile, to vary our routes when driving, to try not to look American (not wearing T-shirts, baseball caps, etc.), to stay out of crowded areas, to avoid groups of youths, and to not go downtown or near a mosque on Fridays,which is the holy day.
Karen Koshiol Breuer with her husband Bryan and son Nicholas in their backyard in Saudi Arabia.
My husband drives our son to school everyday, instead of taking the big compound bus. We are taking many precautions to stay safe and alert to anything suspicious. My husband still goes about his work but is very vigilant and always cautious. He says he has lost some of his interest in his job, and doesn't look at Saudis the way he used to.
It is also sad that we are unable to show our patriotism but that would not be wise. I also now wear a scarf around my head when I shop.
Staying on the compound is certainly not a normal way to live, compared to U.S. standards, but it is normal for living in this country. Living in a walled-in subculture within a culture is so very different from what we are accustomed. Our compound is a thriving community with an activity director who offers soccer, swimming lessons, tennis, softball, sewing groups, book clubs, etc. There are many activities to keep us busy. We also have a great support system, having made many close friends from all over the world.
What has been the response in Saudi Arabia to the air attacks against Afghanistan?
Most responses publicly condemn terrorism but are against the bombing of Afghanistan. I haven't read any letters taking the stand in favor of the American and British military action. The majority of people, including westerners living here, would like to have seen more use of diplomatic channels before taking military action.
Since Saudi Arabia is a strict military state with tight security, there have been no demonstrations in the streets so we do not worry about that happening. Freedom of speech has come a long ways over the past years in the newspapers, but public freedom of speech is not tolerated. Public gatherings are NOT allowed. There are no movie theaters or any kind of activity that would allow large numbers of people to congregate to share viewpoints, with the exception of soccer matches, which are open to men only. We've seen on television that Saudis have meetings out in the desert where they meet with the local prince to express their grievances.
Do you have any long-term predictions or fears about the outcome of what President Bush has called a war on terrorism?
We have some fears as to what will happen next. As more and more innocent people die in Afghanistan, more people around the world are protesting and voicing their opposition to the strikes and the war continuing. Living in the Middle East takes on a new dimension as we are concerned about how Muslims will react if the bombing war continues during the Ramadan and Eid holidays.
Are you planning to come home sooner because of recent events?
At first...yes. We had our bags packed and our tickets in hand. As we realized Saudi is a safe place, relatively speaking, we are now taking it one day at a time, watching world and local events very closely. We are also keeping in contact with the U.S. Embassy and have a plan in place if the need to leave becomes urgent.
---
Contact the author at paypress@lkdllink.net • Return to News Menu
Home | Marketplace | Community
---