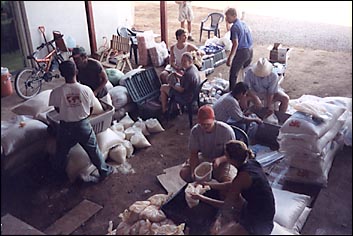 Four years ago, members of the Paynesville Evangelical Free Church took a mission trip to Mexico, and "God opened the door for us to ministry," according to Pastor Rich Hubert.

Members of the Evangelical Free Church helped sort food that will be distributed to the native people of Nicaragua.

Before that trip, the congregation only supported missionaries financially, as has been the tradition for churches in Minnesota for decades. But with the successful trip to Mexico - in which a mixture of 32 youth and adults conducted outdoor preaching, gospel outreach, and door-to-door evangelism - a more do-it-yourself missionary spirit was born.

Since then, church members have taken trips to the Dominican Republic, the Middle East, and Nicaragua - where parishioners have gone three times. Their first trip was in 1999 to help in with hurricane relief efforts, and through subsequent visits they have built bonds with the native people.

In addition to financial support, members of the congregation found that they could give physical labor and make a physical presence in places of need, explained Pastor Hubert. "Suddenly members have realized they could do more than send a check," he said. "They could go and invest themselves."

A number of churches in the Paynesville area have discovered the same thing: that they can do mission work themselves and see a different part of the world and strengthen their relationship with God in the process.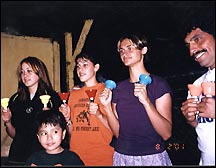 "It's a life-changing thing," said Pastor Darren Olson of Crystal Hills Assembly, who led a group of 13 members from his church on a ten-day trip to Guatamala this summer. "It makes you think outside the box. It makes you realize there are people other than me. There are people who are hurting, who need Jesus, and I'm the tool that Jesus uses."
The group from Crystal Hills practiced dramas for three months before leaving and used the dramas, puppet skits, and preaching to spread the gospel. (See picture at right.) Christians need to spread God's word everywhere in preparation for the return of Christ, said Pastor Olson, and they need to realize that Jesus is coming back soon.
Youth trips
Not all mission trips involve focus on preaching. Some put the primary emphasis on service - like the Evangelical Free's trips to Nicaragua.
Last summer, seven youth and two adult leaders from Paynesville Lutheran Church went on a ten-day trip to Montana, where the emphasis was a wilderness experience. The group hiked in the mountains (see photo below) and helped build and maintain the trail system for the forest service.
"It kind of gives kids the opportunity to see God's work and do work that has lasting effect," said Pastor Jeff Bergman, who led the trip along with Diane Nelson, director of youth and family ministries.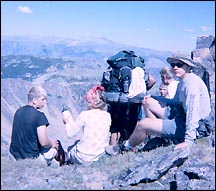 They held devotions every morning and said prayers, sang songs, and reflected on the day every evening. "This was a great opportunity for community building because we did everything as a team," Bergman added.
At about the same time, Linda Jensen, the youth pastor at Grace United Methodist, was leading a group of nine kids to Arizona, where they spent ten days working and ministering on an Apache Reservation. The group split its time between service - painting houses - and ministry - leading kid's club, sort of like Vacation Bible School.
"I think that youth, kids, have an internal desire to do Christ-like things, to serve," said Jensen, who believes you have to get kids out of church classrooms to tap their full potential. "We have wonderful kids," she added. "They want an opportunity to serve and to give of themselves. They want to know that they can make a difference in the world to someone."
Through computers, television, movies, magazines, and the Internet, the world is brought home to everyone's living room these days, which leads people to want to be a part of it, said Jensen. "Their world is expanding and they want to see it," she said.
Reservation life - where loving children mixed with kids with terrible behavior problems and where little economic activity goes hand in hand with serious social problems like alcohol and abuse - can shock youth used to more middle-class upbringings, said Jensen, whose church has sent youth trips to the Appalachian Mountains in previous years.
"If you want a vibrant youth program, you have to provide extraordinary experiences," said Jensen.
"It's definitely a way to get teenagers to grow," agreed Olson. The Crystal Hills trip to Guatamala went to places where Americans don't normally go. Eating with the native people, sleeping on church floors, living without the conveniences of America teaches people what it's like to walk in the shoes of the native people, he said.
"You're giving rather than receiving," he explained, "and when you give, you receive, but it's just in another way."
Close to home
"I think you've got to get out of your context and setting and get a new perspective," said Pastor Keith Ainsley of Nordland Lutheran Church. That could mean going as far as Guatamala, Mexico, or Nicaragua, or as close to home as Bemidji, where Marlys Pearson, a member of Nordland, led Vacation Bible School this summer.
Pearson, who started traveling as a 55-year-old widow, got involved in mission trips by hearing a missionary pilot talk about flying missions in Alaska. Since then, she's taken trips as far away as Rumania, Jamaica, and Saskatchewan, and as close to home as Bemidji, where she led a week of Vacation Bible School with her granddaughter this summer. "I decided there might be something local, instead of always going out of the country," she explained.
The People's Church in Bemidji serves primarily Native Americans, many of whom suffer from extreme poverty. One Lutheran church in Bemidji cut its donation to the People's Church this year by $3,000 because it said it could not afford any more due to a multi-million dollar building project at the wealthy church, said Pearson scornfully.
Pearson has always taken young people with her on her travels because she thinks it's important that they see how much we have compared to other places in the world. But her trip this summer, just to northern Minnesota, convinced her "there's plenty to be done right here," she said. "The more you do, the more you want to do."
"When you start serving others, you get just as much of a blessing as they do," she added. "You gain more than you give away."
Many of the churches also recognize the need to do mission work close to home as well as in foreign countries.
The Methodist youth, for instance, started the GUMppets this year to minister in Paynesville. They try to rotate their yearly trips: a local mission, an out-of-state mission, an out-of-country mission (most recently to Mexico), and a spiritual renewal (to the Rockies in the summer of 2000).
Mission trips help people "realize there are people outside of Paynesville who need Jesus," said Pastor Olson. "At the same time, it makes them aware that people around here need Jesus, too."
Only 30 percent of Americans attend church regularly. "What that says is there is 70 percent of the population that is unchurched," said Pastor Hubert. "Therefore," he continued, "mission in our own backyard is absolutely imperative. People need to know that they matter as much to God in Paynesville as they do in Nicaragua."
Americans now have the resources to get on a plane and arrive in Nicaragua six hours later. "People are using their vacation time to take these trips, and they're really finding it rewarding and fulfilling."
"They come back tired, but they come back blessed and fulfilled," he added.
Not sightseeing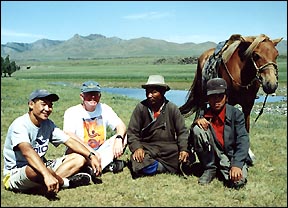 A lure of mission trips, especially those out of country, is for people who want to do more than sightsee when they travel. "You don't get to know the people when you're sightseeing," said Pearson, "and you don't know anything. You have to get to know the people in the streets."
Foreign travel devoted to sightseeing misses the point, according to Pastor Ric Koehn (second from left in photo), who has been to Africa three times, the Middle East and Israel six times, and completed an eight-week renewal leave to Asia this summer, including seven weeks in Mongolia.
Most sightseers "never really see (the people). They look at them from a bus. They see them through a travel guide. They eat in the best restaurants and stay in the best hotels. Mission trips are exciting because you get to meet the common people," he explained.
"I like to do stuff where you can actually see the people," he added. "I don't want to stay in American hotels and eat American foods." During his seven weeks in Mongolia, he stayed with a couple of long-term missionaries. "For me, it was an opportunity to see what a missionary does on an on-going basis and to see what life is like in a foreign country. Since we support (the missionaries), it helps me to interpret what they've done," he said.
"I've got a ton of experiences to relate in sermons and articles in the newsletter," he added. "Most people here are never going to go to a Third World country, so it gives me an opportunity to share with them."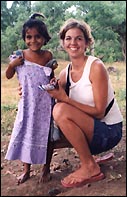 Liz Hubert (at left with the young girl she has supported), a 1999 PAHS graduate, has not only seen the Third World through church mission trips, she might want to live in a Latin American country as a result. She took three trips with the Evangelical Free Church and then spent two months in Nicaragua this summer with the missionary couple she met through the trips with her church.
"I just have a heart for other countries," she said. "I'd love to live in another country. I don't know. We'll see what God does."
Hubert, who is studying to be a nurse, flew to Nicaragua to volunteer her time. She put her medical training to use by assisting in check-ups and surgeries with a medical team.
While there, Liz Hubert met the young girl that she has supported for the past 18 months. For $20 a month, a beneficiary in Honduras or Nicaragua gets three meals a week as well as periodic medical and dental checks. Many members of her church now participate in the program, which feeds over 3,000 people and has a list of 400 people waiting for donors.
That's a result of the new missionary spirit. Whether someone is adventurous enough to undertake a mission trip or just to hear a first-hand account from other church members, their awareness of foreign missions increases. "The more people -╩whether it's kids or adults - who get out and see the world, the more responsive they'll be in the future (to missions)," explained Pastor Koehn.
---
Contact the author at paypress@lkdllink.net • Return to News Menu
Home | Marketplace | Community
---