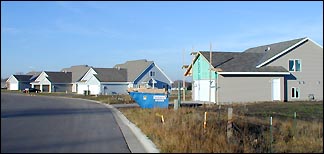 Russell and Stacy Raush and their three small children had outgrown their apartment. They started looking at older homes because they didn't think they could afford a new one, but low interest rates and Tri-CAP's first-time home buyer program helped them purchase a new house.

On Spruce Street (above), Tri-CAP is curently building two homes (far left and right), which have been sold already. HRA is constructing two twin homes (center) that contain four three-bedroom rental units.

After looking at more than a dozen homes, they opted to purchase a new home on Morningside Avenue, built by Tri-CAP. The Raushes especially liked the location of the home. "We have the benefits of the city but the feel of country," said Stacy. The view from their living room window is an alfalfa field east of town.

Their home is located on a dead end street and doesn't have a lot of traffic, Stacy added, which makes it ideal for a family with small children. The interest rate of 5.9 percent was also a factor in their purchase, she said.

For a long time, Morningside Avenue only had homes on the west side of the roadway. But in the past year, Tri-CAP has constructed six homes on the east side of the street, finishing the existing development.

Because of the need for affordable housing, both Tri-CAP and Stearns County HRA have projects underway in the city of Paynesville. A survey by the Stearns County Housing Redevelopment Authority showed the county has only a few housing vacancies, said Bob Swanberg, Stearns County HRA director.

Since 1999, the Tri-County Action Program (Tri-CAP) has built 10 homes in Paynesville - six on Morningside Avenue and four on Spruce Street. Paynesville was selected for the Tri-CAP program because of its lack of affordable housing, said Mike Fischer, Tri-CAP housing manager.

Tri-CAP has its own crew that builds all its homes. They are stick built with steel combustion furnaces, air-to-air heat recovery systems, oak cabinets, and custom built cupboards, Fischer said.

The homes on Morningside Avenue are either three-bedroom ramblers or three-bedroom, split-level homes. The homes on Spruce Street are three-bedroom, split-level or tri-level homes. All the homes are designed to be expandable so homeowners can add family rooms or another bedroom someday, Fischer said.

The homes are usually sold through local realtors before they are completed, Fischer said.

Prospective Tri-CAP home buyers need to met income guidelines (80 percent of state median). Tri-CAP also buys down the loan principal by 10 percent. Tri-CAP has several other financing options to help low-income families or first-time homeowners obtain homes.

The city of Paynesville also helps to make the homes more affordable. The city contributes $2,500 to a new home buyer to help cover closing costs. The city portion is paid $500 per year, meaning the home buyer must stay in the house for five years to get the entire amount.

Unlike the Tri-CAP program, Stearns County HRA only builds rental units. It currently has two twin homes under construction on Spruce Street in Project 55. These three-bedroom rental units (four in all) are aimed at providing affordable housing for working families, said Swanberg.

HRA follows many of the same guidelines as Tri-CAP. To qualify for the housing break, a family can only make 80 percent of state income levels.

Stearns County HRA has an office in Cold Spring that can be reached at 320-685-7771.

With houses or units being filled before they are completed, both organizations plan to build additional homes in the future. The city has another new development - WilGlo Acres - that has been completed and more annexations and developments in the works.

Future housing developments - including the alfalfa field that the Raushes currently can see from their dining room - may be sites for more affordable housing from Tri-CAP and HRA in the future.
---
Contact the author at paypress@lkdllink.net • Return to News Menu
Home | Marketplace | Community
---