"Sheesh, you're crazy."

That's what Milt Koshiol remembers telling his superior officer in March 1945 after being informed that his company of armored infantry, under the command of General George Patton, had "volunteered" for a daring dash behind enemy lines to liberate a prisoner of war camp 60 miles away near Hammelburg.

The purpose for the mission, which Koshiol viewed as suicidal, was to free Gen. Patton's son-in-law, who had been capture by the Germans a year earlier. Though Gen. Patton never said that he knew his son-in-law was held in that prison camp, to this day Koshiol doesn't believe his denials. "But I knew it," protests Koshiol. "The general should have known it."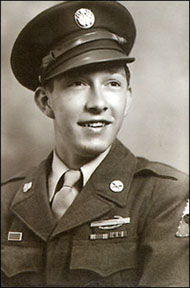 (Nor does Koshiol believe the argument that Patton ordered the mission as a diversionary tactic, which, tragically, it turned out to be.)
The mission - with nearly 300 soldiers and over 50 halftracks, tanks, and jeeps - was meant to be a lightning strike, just the sort of thing at which the armored infantry excelled. But they met terrific bazooka fire in the first village they tried to go through, and eventually made a giant loop to get to the camp, which held 1,500 prisoners, including Patton's son-in-law.
Milt Koshiol was captured in WWII during a suicide mission to free a prisoner of war camp
"The camp surrendered," wrote Koshiol in his journal of war experiences, "and I saw prisoners all marching out of the camp in a group. I wondered what they would do or where they would go. Some liberated prisoners came with us, but we could not take many."
"We liberated the camp, but the guy we really came after got shot," said Koshiol. Patton's son-in-law was in the camp infirmary and unable to move, so the column left without their prize.
After leaving the "liberated" prison camp after dark, the column tried to get back to the American lines. "Every road, the front tank or truck got knocked out by a bazooka. Then we tried another way," recalled Koshiol. "It went on like that all night."
"If we could have gotten back to our lines, we would have been heroes," added Koshiol.
Instead, the remnants of the column ended up surrounded on a hill. Koshiol still remembers seeing eight to ten German tanks cross a field - in a textbook maneuver that he thinks is the best he ever saw - and approach their isolated position. Koshiol is sure that one book about this raid quotes him when it describes an enlisted man saying, "We're whipped. We just don't know how to give up."
In the end, about 150 men, roughly half the column surrendered on that hill and were taken to the very prisoner of war camp that they had "liberated" just hours earlier.
"The German tanks never let up firing until they were right on top of us," wrote Koshiol. "We did not have much of a chance. We were taken to the prison we had just liberated."
His first moments of captivity were the scariest Koshiol would face. "When I was captured and searched, I had on a German infantry badge that I took off of a dead German soldier while passing Bastogne. The badge was pinned inside of my field jacket, and I forgot about it and didn't throw it away," wrote Koshiol in the journal of wartime experiences that he wrote for his children. "When the German trooper searched me and saw that badge pinned on the inside of my field jacket, he looked me right in the eye for what seemed like a long time. Right then, I thought I was dead. But he just closed my jacket and pushed me on to one of our captured halftracks. I'll never forget that German soldier, and I was very thankful that I was still alive."
They stayed in the prison camp in Hammelburg overnight and then taken by train, in a boxcar, to Nürnberg.
As prisoners walking through Nürnberg, they were taken past the huge stadium where Adolph Hitler and the Nazi Party had held rallies. Koshiol remembers seeing the giant swastika on the arch over the entrance to the stadium.
They then walked two weeks from Nürnberg to Stalag 7A in Moosburg, some 80 miles away. They walked from sun up to sundown, eating potatoes from farmers along the way and sleeping in barns or holes.
Except for when he was captured, Koshiol really wasn't scared during his captivity. "I knew the war was headed towards the end. They did, too," he said.
"Because I was held for such a short time - and spent most of that time traveling - my prisoner life wasn't that bad," recalled Koshiol. "I was not treated badly, but we never got much in the line of food. I had soup in Nčrnberg that had black beetles in it, and I couldn't eat it. The sauerkraut at Moosburg was so dark and strong I couldn't eat it."
Since the war was going badly, the Germans didn't have much to eat themselves, Koshiol noted.
During his captivity, a Serbian prisoner gave him a wooden shoe that someone had carved. Some of the prisoners who had been held longer actually wore these shoes. Koshiol spent much of his time as a prisoner drawing patterns onto this shoe and carving them with a pocket knife, including the name "Rosie" beside two hearts. (Since returning in one piece, Milt and Rosemary Koshiol have been married for over 55 years.)
Koshiol was liberated from Stalag 7A by Patton and the advancing American army. "The first soldier that I saw was when Gen. Patton himself came to the camp in a jeep," wrote Koshiol. "He had on his Sunday best with pearl-handled revolvers, riding pants, and riding boots."
Though he was a prisoner of war for barely a month and had served in active duty for less than six months, Koshiol was shipped home soon after being liberated. They were taken from Moosburg to France and then put on a ship for the United States the next day.
Koshiol thinks they were sent home fast so they wouldn't talk about the ill-fated Hammelburg raid, which would have been embarrassing to Gen. Patton. In fact, before being discharged, the army had Koshiol sign an oath not to talk about the raid.
Koshiol, who grew up in St. Cloud and graduated from St. Cloud Cathedral High School, was drafted on Jan. 7, 1944, and trained to fire anti-aircraft (AA) guns in California, which was the last he ever saw of AA guns. Once he got to England, he became an infantry replacement. For a while he was going to be a replacement in the airborne divisions, which had been hit hard in the D-Day landings. For two months, he trained in the glider infantry. The idea here was to take a glider and land behind enemy lines instead of a parachute, and Koshiol made several practice landings in a glider.
Finally, during the Battle of the Bulge, in December 1944, Koshiol was moved to the front, as a infantry replacement in the 10th Armored Infantry Battalion, which was part of the Fourth Armored Division, commanded by General George Patton. He barely got off a truck in a Belgian farmyard when the reality of combat hit...in the from of German artillery. The Germans were shelling the yard with a barrage of screaming meemies. "We hardly got out of the truck and we were getting shelled," he said.
"Can you imagine getting out of a truck? Instant war," he added.
After escaping the farmyard, Koshiol and the other replacements had to walk to find their new squads, seeing American and German casualties for the first time. "They are shooting at you, and the bullets are whizzing by," he said.
Koshiol, like many of the troops, had no winter clothes, no boots, no overcoat. Most nights they would sleep in a foxhole with only a bedroll for warmth. "It ended up being the coldest winter in the history of Belgium," he said.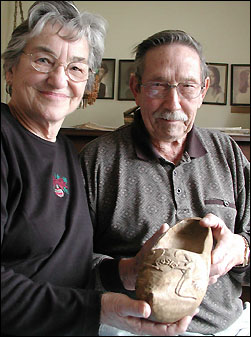 "I remember digging a foxhole on top of a frozen hill and (going) to our halftrack for a blanket roll when a barrage of artillery came in," wrote Koshiol, in a written record of his wartime experiences. "When I got back to my foxhole, I saw that a shell had exploded right in it. Then another barrage came in, and I ran looking for another hole when I got blown through the air and landed on another G.I. in a foxhole. He said to me to look and see where I had just been. I saw a hole in the ground still smoking and my helmet lying next to it. Lucky again, and I still never got hurt."
While a prisoner of war in Germany, a Serbian prisoner gave him a wooden shoe, which some prisoners actually wore. Milt spent his 33 days in captivity carving decorations on the shoe, including the name Rosie. Rosemary and Milt Koshiol have been marries for over 55 years.
Koshiol figures he survived a half dozen close calls like this, including standing behind his squad leader during the Hammelburg raid when a bazooka shell hit a nearby halftrack. Koshiol luckily escaped with a gash across his knuckles and a hole in his field jacket.
Koshiol helped relieve the 101st Airborne Division, which was famously surrounded in Bastogne. He remembers seeing the planes dropping supplies by parachute into the sieged city.
After the Battle of the Bulge ended in victory for the Allies and defeat for the Germans, Koshiol moved with his unit into Germany.
In the armored infantry, Koshiol and his squad mates rode in halftracks. Along with tanks, they would spearhead the advance, covering up to 50 miles in a day, racing ahead to secure strategic bridges or road junctions and waiting for the rest of the advancing army to catch up. "I'm surprised that we never got cut off," said Koshiol.
Crossing rivers - such as the Rhine and the Main - was usually difficult, with stout defenses and possibly no bridges left, causing a delay until the engineers could build a floating bridge for the vehicles to cross.
While in the army, Koshiol learned by letter that his sister had died from illness back home.
For years, Koshiol kept his pledge of silence, though he stumbled across accounts of the Hammelburg raid, finding the book, Battle, with a chapter entitled, "General Patton's Mistake," in a local law office one day. Now he owns half a dozen books about Patton and World War II with accounts of the raid. One of his favorites, the one he is quoted in, is Raid, co-authored by his commanding officer in that ill-fated raid.
"He didn't talk about it for years," said Rosemary. "It's the kids that got him started talking," she added. "They wanted to know about his war stories."
Attending a World War II roundtable at Fort Snelling in 1987 helped Koshiol discuss his wartime experiences. He has since participated in the roundtable - held the second Thursday of every month from May to September - a couple times.
"That's nice," said Koshiol, who still helps with color guards, of his lifetime paid membership to the American Legion. Koshiol was raised to be patriotic. His dad served in World War I and was quartermaster for the American Legion post in St. Cloud. "The flag means a lot to Milt," said Rosemary.
This summer, Koshiol was featured on WCCO-TV on the show Out 'n' About with Ralph Jon Fritz. The segment was produced by Donnie Koshiol, one of Milt and Rosemary's six children.
Rosemary has traveled to Germany and retraced Milt's path, both in the armored infantry and then as a prisoner. Milt had no interest in going back. "I almost didn't get out of there once," he said.
---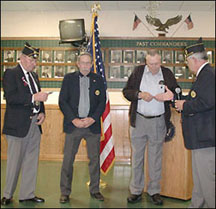 (Editor's Note: The American Legion Post #271 honored two local veterans - Milt Koshiol (center left) and Hub Schwandt (center right) - on Veteran's Day on Monday, Nov. 11, with lifetime paid memberships to the American Legion. The executive board of the local post discussed honoring Schwandt and Koshiol this way in August, according to post commander Larry Alstead. The gesture was then approved by the general Legion membership, Alstead added. "To our knowledge, they're the only prisoners of war in this area," said Alstead, "so we thought we'd pay our respect."
The $200 it costs to pay for their lifetime membership is a small thing for the local club to do, added Alstead. "It's the fact that we've shown appreciation for their service in the war and their suffering as prisoners of war," he explained. Both men, he continued, have led great lives in Minnesota since World War II, including great service to the Legion. For instance, Hub was instrumental in starting the color guard, and Koshiol still participates in the color guard, he said.
Last week, the Press began a two-part profile of Schwandt's and Koshiol's service in World War II and their experiences as prisoners of war. Read Schwandt's story here.)
---
Contact the author at editor@paynesvillepress.com • Return to News Menu
Home | Marketplace | Community
---