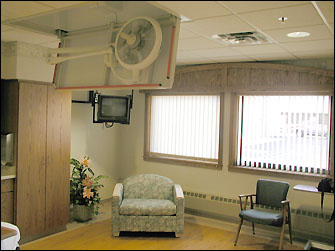 The first structural changes at the Koronis Manor - since it opened in 1964 - have been completed as part of the current remodeling project at the Paynesville Area Health Care System (PAHCS).

While a new wing was not included in the current remodeling project administrators hope to add more rooms and switch existing rooms from doubles to singles when finances allow at Koronis Manor.

As part of the $7.5 million overall project, nearly $1.5 million was spent on upgrades at the Koronis Manor, according to Tom Kooiman, chief operating officer for PAHCS, who oversees the Koronis Manor. "Most of the money went into the mechanical portion," he explained. "What you don't see is all the work that went into the rooms so they can control their own heat."

"We had a very difficult time, especially in summer, in keeping it cool," said Bev Mueller, acute care administrator for PAHCS, who has overseen the construction project. "And also in winter, we had a difficult time keeping it warm."

The project also added a medication room, a treatment room for medical exams, another tub room, and another section to the dining room. The dining room was expanded by a third and divided into three sections, which allows for a more intimate dining setting instead of the cafeteria style of the past, said Kooiman.

These additions were also needed for the simple need of more space. As more and more residents at the Koronis Manor now use wheelchairs, these areas needed more and more space.

When the Koronis Manor was built, only 25 percent of the residents were in wheelchairs, and 75 percent were ambulatory, said Mueller. Now, with people living longer at home, thanks to more home health options, 90 percent of the population of the Koronis Manor is in wheelchairs.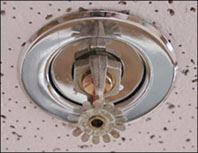 Working space in the tub rooms and floor space in the dining room were not ideal for the wheelchair population. "There was just no room for mobility," said Mueller.

One of the additions to the Koronis Manor was a sprinkling system. Such a system has long been required by the state, but was just installed at the nursing home in the last remodeling project, which made the first structural changes at the Koronis Manor since 1964.

Before the remodeling, some residents had to eat in the lounge, said Mueller. And without a second tub room, baths had to be started early in the morning and could be given only on a limited basis.

Since no structural changes had been made to the Koronis Manor since 1964, one requirement of the project was to add a sprinkling system. This had been required for years, but PAHCS had not had to comply until it did remodeling work in the Koronis Manor.

The mechanical portion of the project also put in place the infrastructure needed for a new wing on the Koronis Manor. PAHCS has received a $3.2 million exception to a statewide moratorium on nursing home construction, which could be used to add a new wing with more patient rooms. (With the exception, PAHCS will be able to raise rates to recover its construction costs for improvements at the Koronis Manor. Without it, major improvements would not be possible, since PAHCS would not be reimbursed.)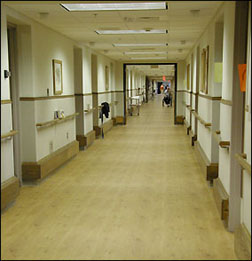 Adding more rooms in a new wing and switching existing rooms from doubles to singles would allow the Koronis Manor to have almost all private rooms, which is what the next generation of users will want, said Kooiman. "They're going to want private rooms and private bathrooms," he explained. "They're going to want a more private setting."

This new wing, which was not included in the current remodeling project, may be done when finances allow. "Margins in long-term care tend to be tight," said Kooiman.

The hall at Koronis Manor has been redone with a wood grain to give the nursing home a more "homey look, but administrators feel more needs to be done to make the nursing home more home-like.

The construction project - which required the addition of sprinklers in every resident room - required six to eight rooms to be closed at a time, 18 rooms at one point. Residents had to be moved temporarily from one room to another. "It was much more involved than we ever, ever anticipated," said Mueller. "The staff, the residents, and their families were wonderful throughout the process."

PAHCS had to stay open and meet code at all times during the construction, said Mueller. "Sometimes between those two," she explained, "it made it very difficult."

Adding a new wing, said Mueller, should be easy by comparison. With new construction, instead of remodeling, the new wing could be built and occupied before any remodeling had to be done.
---
Contact the author at editor@paynesvillepress.com • Return to News Menu
Home | Marketplace | Community
---