As the building and grounds supervisor for District #741, Donnie Mayer is responsible for the physical plant and property used to educate kids in the local schools.

He is responsible for the district meeting fire codes and health and safety regulations. "It's pretty much keeping the schools safe," said Mayer, who had worked for the district for 11 years as a custodian before replacing Lew Storkamp, who retired, as building and grounds supervisor in July.

Mayer's job includes supervising seven district custodians and overseeing cleaning and maintenance in nearly 200,000 square feet of district buildings, including 86,300 sq. ft. at Paynesville Area Elementary School and 199,500 sq. ft. at Paynesville Area High School and Paynesville Area Middle School.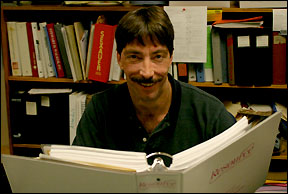 The most time-consuming duty for the custodians each day is cleaning bathrooms, said Mayer. The district has 44 restrooms with 67 soap dispensers and 189 papertowel dispensers. Each year, the district uses 980,000 papertowels (at a cost of $5,400), 1,440 rolls of toilet paper (at a cost of $1,520), and 65 gallons of hand soap (at a cost of $900).
Since becoming the school district's building and grounds supervisor in July, Donnie Mayer has had to familiarize himself with lots of codes, including this hefty manual about health and safety regulations.
Custodians also handle 1,780 yards of garbage that the district throws away each year, and they change 450 light bulbs each year. And they are responsible for snow removal and mowing grass.
In his 11 years in the district, Mayer did all these custodial duties at one point or another. For his first three years, he was a night custodian, primarily responsible for cleaning each night. (During his first two years, Mayer actually worked two jobs, also continuing to run his own welding workshop, which he operated for 11 years total.)
For the past eight years, he has been one of the two day custodians, who focused on maintenance, cleaned the cafeterias, handled the mail, plowed snow in the winter, and mowed grass in the summer.
Now, as supervisor, Mayer finds himself directing that maintenance. The district's work orders now go through him and he assigns the work to the other custodians.
Mayer, a 1976 PHS graduate, is also responsible for the district meeting a host of codes and regulations, including the fire code, health and safety regulations, emergency action plans, air quality testing, OSHA inspections, etc. One of his goals for his first year is to read through all the files and manuals in his new office and desk.
One of his main projects this year is the replacement of the district's fuel oil tank behind the elementary school. The district is replacing the current tank with a double-walled tank with an alarm.
Mayer said he took the promotion to building and grounds supervisor because he likes the people he works with at school and because he has a great custodial crew.
His wife, Linda, also works in the school district as the middle school secretary.
---
Contact the author at editor@paynesvillepress.com • Return to News Menu
Home | Marketplace | Community
---